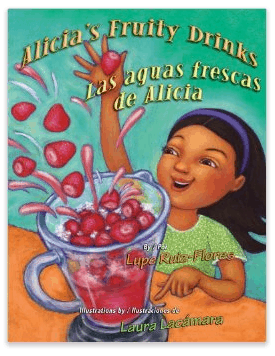 Today, I'm participating in Latinas for Latino Literature's Día Blog Hop. Over 24 days, 24 Latina bloggers are paired with 24 authors and illustrators. This initiative, started in 2013 in the United States by poet Pat Mora, is in honor of Día de los Niños, Día de los Libros which is celebrated on April 30. All of the guest writers were asked to share an original story or illustration in support of Latino children's literacy. The Other Side of The Tortilla is the fifth stop on the hop.
I'm thrilled to have been matched with Lupe Ruiz-Flores, the author of one of my favorite bilingual children's books, Las Aguas Frescas de Alicia.
The story is about a little girl who attends a Mexican Independence Day festival with her parents and discovers agues frescas for the first time. She loves the fruit juices so much, she wants to make them at home with her mami, and soon is creating her own recipes to share with her soccer teammates.
It's no secret that we're huge agua fresca fans here at The Other Side of The Tortilla, and I believe teaching your kids about their family roots through food is a beautiful and meaningful way to instill culture and identity, as well as create lifetime memories. Books are another excellent way to teach kids about culture, and we couldn't do that without Latino authors writing books filled with characters our children can identify with. As such, I'm proud to have my site serve as a vehicle to spread the word about the deep ties between literacy and culture and what they can do for our community.
Lupe Ruiz-Flores has shared an original essay for our readers as part of the L4LL blog hop. You can find the full schedule for all stops on the Día blog hop on the L4LL website. 
—Maura
Reflections by Lupe Ruiz-Flores
For Latinas for Latino Lit 2014 Día Blog Hop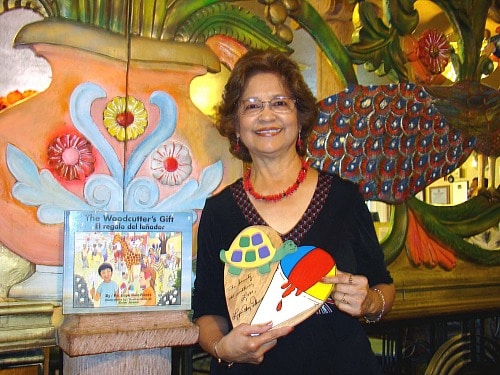 I remember the day I first discovered books: It was at my elementary school library. I was stunned at the number of books lined up neatly on shelf after shelf in that cozy room. I had never seen so many books in one place at one time. Was it possible that I could actually reach for one, hold it in my hands, look at the pictures and read it? A whole new world opened up for me; that's when I fell in love with words and books. That's when books became my friends.
We didn't have any books at home. Not one. We were a large family of 11 brothers and sisters. There was very little money and books were not a priority when I was growing up. But there were cuentos. My abuela and my father were storytellers. They would tell us cuentos while we sat on the porch at night.
The books I read in the library became my "cuentos" that took me away to places I could only dream of. To me, these books were magical. I think in my heart, that's when I decided to become a writer. But it didn't happen for a long, long time.
I consider myself a late bloomer when it comes to writing. I had the passion, the heart and the desire. But was I good enough? I tested the waters by entering writing contests. Rejections poured in, but soon, some of my short articles were accepted. I entered a national magazine writing contest and when out of 5,000 entries, I was one of 15 selected, my confidence soared. I wrote non-fiction for a while. Then I tried another genre: Children's books. I wanted children to experience the same magic that I had discovered years earlier in that small library. I wanted them to go on a journey with the stories. Today, when I do school visits, I aim to inspire students to read and write more and to show them that books can transport them to magical places, too. My hope is that they become lifelong readers.
We are role models in our children's lives and we need to encourage them to dream BIG. We need to provide them with the tools they need to succeed, whether it's books, school supplies or encouragement. It's our responsibility to help them pursue their dreams, recognize their potential and set expectations. We need to nurture children with love and guidance, and empower them to do their best. Besides providing them with books to read, we can take them to visit museums and cultural and arts organizations to expand their horizons.
Recently, I read in Publishers Weekly that Justin Tuck, defensive end for the New York Giants, and his wife founded an organization called R.U.S.H. for Literacy, which encourages children to Read, Understand, Succeed and Hope. Tuck recalled how hard his parents worked to put food on the table for the family, and how as a child he never got to travel anywhere.
"My mom always told me, 'You want to go somewhere, pick up a book,'" he shared. Tuck called literacy the No. 1 stumbling block to success. I agree. During this year's El Día, let's take our children on a journey to "somewhere" with books. May books become their friends!
ABOUT LUPE RUIZ-FLORES Lupe Ruiz-Flores has always been a writer at heart. Born and raised in Southwest Texas, she's also lived in such faraway places as Thailand and Japan. She comes from a large close-knit family where her brothers and sisters are her best friends. She gets her love for storytelling from her grandmother and father. Lupe has had six bilingual picture books published. Four have been on the
Tejas Star Reading List
. One was a finalist for the 2013 Writer's League of Texas Book Award. She has been a featured author at the Texas Book Festival twice and has been a participating author in
Reading Rock Stars
. Before she was a writer, Lupe was an aerospace engineering technician. Visit her website at
www.luperuiz-flores.com.
0