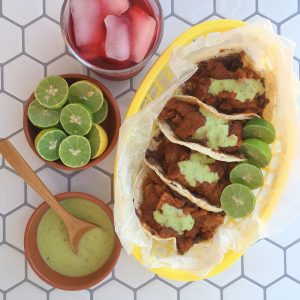 Tacos de chicharrón guisado
Yield 4 cups
A classic Mexican dish, chicharrón guisado is made from stewed pork cracklings and a smoky salsa roja. Makes 12-16 tacos.
Ingredients
2-3 small dried morita chiles, toasted and then rehydrated (see Notes below)
5 medium-sized Roma tomatoes (jitomate saladet)
1/4-inch slice of white onion
1-1/4 teaspoon kosher salt
1/2 teaspoon Knorr Suiza tomato flavor, or another brand of tomato-flavored bouillon 
1-1/4 cups water
10 cups chicharrón (pork cracklings), broken into bite-sized pieces (0.6 of a pound should yield 10-12 cups)
1 cup refried black beans
corn tortillas
salsa of your choice (Herdez guacamole salsa is what's pictured here because that's what I had in the refrigerator)
Instructions
Remove any stems from your dried morita chiles. Lightly toast them on a comal until they inflate slightly (but not burn) and submerge them in 1/3 cup boiling water. Cover and set aside.
Wash the tomatoes and remove the stem scars (the little spot where the stem was attached). Cut them in half and place them cut-side-down on an aluminum foil-lined baking sheet. Broil for 10-12 minutes or until the skins have blackened. Set aside to cool slightly.
Break up the chicharrón into smaller, bite-sized pieces, and set aside.
In a blender, transfer the roasted tomatoes and any rendered juices, and add the rehydrated chiles, white onion, kosher salt and Knorr Suiza Tomate or other tomato bouillon. Blend until mostly smooth. Add 1-1/4 cup water and blend again on high until completely smooth. 
In a slow-cooker, add all the chicharrón pieces to the bottom of the crock. Pour the contents of the blender evenly over all the chicharrón and then stir lightly to make sure everything is coated. Put the top of the slow-cooker on and turn the temperature to high. 
Cook for two hours, stirring every 20-30 minutes to make sure nothing gets stuck to the bottom or sides of the crock.
When it's done cooking, transfer chicharrón to a bowl for serving or store in an airtight container and refrigerate until ready to serve.
To assemble tacos: cook tortillas, spread warm refried black beans on the tortilla, add a heaping spoonful or two of chicharrón guisado on top, and finish with a drizzle of salsa.
Notes
It's best to rehydrate your chiles 24 hours in advance if possible for the most complex flavor, but if not, 30-60 minutes will do.
Best if served immediately, but can be refrigerated in an airtight container for up to 3 days.
Courses lunch/dinner
Cuisine Mexican
Recipe by The Other Side of the Tortilla at https://theothersideofthetortilla.com/2017/06/chicharron-guisado-slow-cooker/