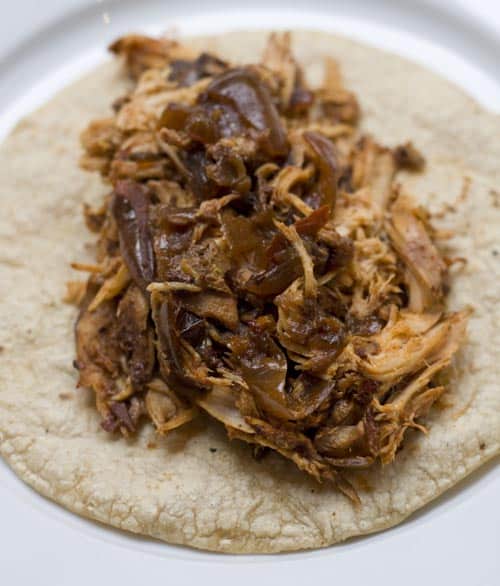 I've been working late into the evening recently so I decided to break out my slow cooker and put it to work for me! On top of the late nights, the brutal heat wave we've been having over the last few weeks has made me less than happy about spending time in the kitchen after a long day, especially if it involves heating up the oven or even the stove top for more than a few minutes because I don't want to be any hotter.
This recipe for chicken tacos is great for a few reasons: it's super easy to make, it takes very little effort to prepare and it can be used as a filling for three different dishes so if you make a little extra you can turn it into more than one meal.
It can be used just as a regular old taco filling, rolled and fried in a tortilla to make taquitos or even rolled and bathed in salsa and topped with cheese as enchiladas. The biggest bonus of all: It won't heat up the kitchen.
The chile flavor comes from an easy ancho-cascabel chile paste that covers the chicken while it cooks, and it's relatively mild on the heat-meter. The onions both serve as a base to protect the bottom of the chicken from burning and also absorb the chile flavor and color to make a slow-cooked savory addition to the chicken.
When I make these as just regular old tacos or roll them up and fry to make taquitos, I usually like to dress them up with a little crema Mexicana and sliced aguacate or a little side of guacamole.
Chile chicken tacos in the slow-cooker
Make weeknight dinners easy with this slow-cooked chile chicken that can be shredded for tacos, flautas or enchiladas.
Ingredients
6 ancho chiles
8 cascabel chiles
4 garlic cloves
1 teaspoon kosher salt
2-3 tablespoons of soaking liquid from chiles
1 cup chicken broth or water
1 1/2 white onions, cut in half and then sliced 1/4 inch thick
1 whole chicken or bone-in split chicken breasts
Appliances:
food processor or blender
slow-cooker
Instructions
Soak your dry chiles in a bowl of hot water for about an hour. Once they're soft and pliable, remove the stems. Place them in your food processor with 4 garlic cloves, 1 teaspoon kosher salt, and a few tablespoons of the soaking water that you had the chiles in. Pulse in the food processor until smooth.
Cut the onion in half and then into quarter-inch slices and layer along the bottom of the slow cooker. Place the raw chicken on top of the onions and spoon the chile paste over the chicken so it's completely covered or as covered as possible.
Carefully pour the chicken broth on the side of the chicken, being careful to not wash any of the chile paste off of the meat. Cover with the lid and set the slow cooker to low for 8 hours.
When you're ready to take the chicken out, it should fall off the bone, the onions should be soft and transparent and there should be chile-spiced chicken broth in the bottom. Remove the chicken and shred it gently into chunks. Transfer to a bowl and add a few tablespoons of liquid from the bottom of the slow cooker to moisten the chicken. Mix in the onions.
Then you can serve it either as soft tacos with Mexican crema and slices of avocado, roll them up and fry them as taquitos, or use them as filling for enchiladas.
https://theothersideofthetortilla.com/2011/07/chile-chicken-tacos-in-the-slow-cooker/
©2009-2015 theothersideofthetortilla.com
Disclosure: I am compensated for my posts on the Genius Blog and provided with Kenmore small appliances to test but all my recipes and opinions, about the appliances and otherwise, are my own.
11