The holidays are coming and the weather's getting cooler, which means I'm already starting my countdown to Christmas and las posadas Navideñas in Mexico.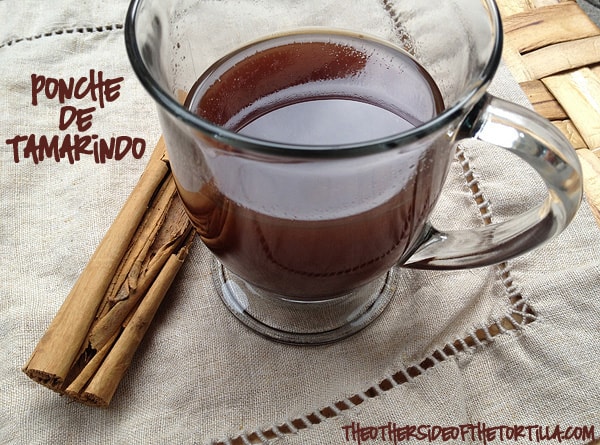 A few weekends ago, I attended the Kenmore blogger summit here in Chicago where I participated in a day of cooking challenges with some old and new food blogger friends. You can check out my team's recipes at cookmore.com (but a heads up that they're not Mexican recipes). My favorite team challenge was one where we had to create a beverage using a slow cooker. Naturally, I suggested we make a spinoff of my warm winter margarita recipe, but with a few modifications since tequila wasn't an ingredient option.
Our creation was a spiced brandy apple cider that wowed the judges and won us the competition; my guess as to why the recipe was such a success is probably because it had more than a little piquete of brandy, wink wink. I've been tinkering with some new holiday recipes recently, and the challenge inspired me to adapt a ponche de tamarindo recipe with brandy that I've been working on for the slow cooker.
The punch has two tart elements: whole tamarind pods and flor de jamaica (hibiscus flowers), which are mellowed by the sweetness of the guava and piloncillo. The cinnamon and brandy give a woody depth, and overall, it's a satisfying drink to warm you up on a cold night. And of course, it'd be perfect to serve for your posadas.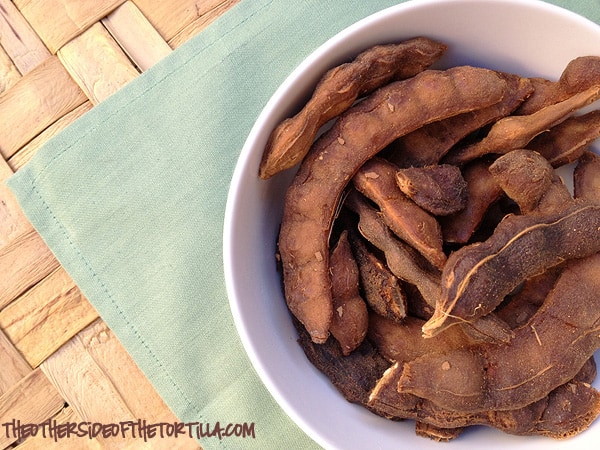 RECETA: PONCHE DE TAMARINDO | RECIPE: TAMARIND HOLIDAY PUNCH
Prep time: 10 minutes
Cook time: 2-2 1/2 hours
Supplies:
slow cooker or Crock Pot
cheesecloth and kitchen twine
For the spice bag:
1/4 cup flor de jamaica (dried hibiscus flowers)
2 Mexican cinnamon sticks
4 guayabas Mexicanas (yellow Mexican guavas), ends sliced off and parted down the middle
For the punch, to put directly into the slow cooker:
8 cups water
1/2 pound whole shelled tamarind pods
8 ounces piloncillo (the small cones should be about 1 oz. each)
3/4 cup brandy
Directions: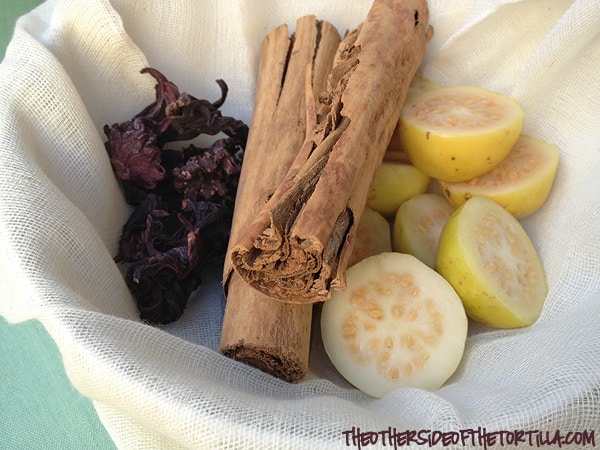 First prepare the spice bag with the dried hibiscus flowers, guavas and cinnamon sticks. Place the ingredients inside a piece of doubled up cheesecloth that is big enough to accomodate the cinnamon sticks and be tied shut with the kitchen twine. (If you prefer, you can leave the guavas out of the spice bag and then ladle them into cups when the punch is ready. I like to put them in the spice bag so the seeds don't come loose.)
Add the water, tamarind, piloncillo and brandy to the slow cooker and submerge the spice bag. Turn the slow cooker on high and put the lid on. Cook for 2-2 1/2 hours, stirring periodically. Turn off the slow cooker and ladle into mugs. You can discard the tamarind pods at the bottom of the slow cooker or use them for something else.
Yields about 7 1/2 cups.
Do you have a favorite way to use tamarind around the holidays?
7