The holidays are coming and the weather's getting cooler, which means I'm already starting my countdown to Christmas and las posadas Navideñas in Mexico.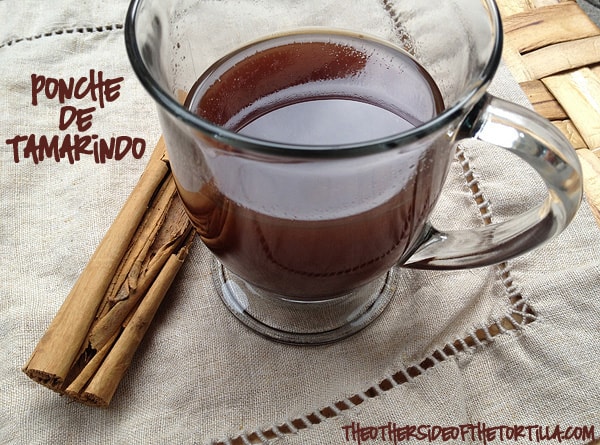 A few weekends ago, I attended the Kenmore blogger summit here in Chicago where I participated in a day of cooking challenges with some old and new food blogger friends. You can check out my team's recipes at cookmore.com (but a heads up that they're not Mexican recipes). My favorite team challenge was one where we had to create a beverage using a slow cooker. Naturally, I suggested we make a spinoff of my warm winter margarita recipe, but with a few modifications since tequila wasn't an ingredient option.
Our creation was a spiced brandy apple cider that wowed the judges and won us the competition; my guess as to why the recipe was such a success is probably because it had more than a little piquete of brandy, wink wink. I've been tinkering with some new holiday recipes recently, and the challenge inspired me to adapt a ponche de tamarindo recipe with brandy that I've been working on for the slow cooker.
The punch has two tart elements: whole tamarind pods and flor de jamaica (hibiscus flowers), which are mellowed by the sweetness of the guava and piloncillo. The cinnamon and brandy give a woody depth, and overall, it's a satisfying drink to warm you up on a cold night. And of course, it'd be perfect to serve for your posadas….