Two years ago today, José and I were married in Los Cabos, Mexico, in front of nearly 100 family members and friends. I can still remember most of the day very clearly, though it went by very fast. Sometimes, it seems like it was just yesterday.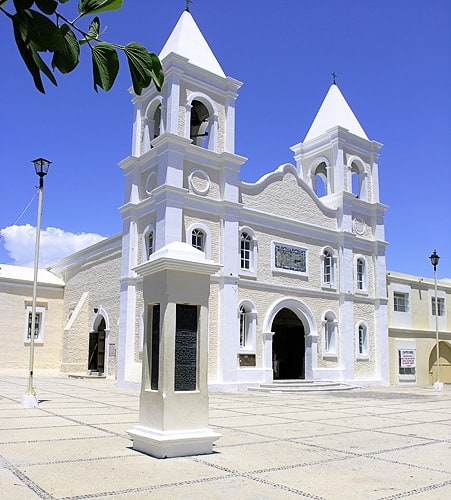 We were first married in a small Catholic ceremony in a beautiful historic church in San José del Cabo with just our parents and witnesses, and then later in the evening we had a full Catholic mass on the beach with all our guests at the Westin Los Cabos.
The church where we were married, Misión de San José del Cabo Anuití, was a mission originally built by a Jesuit priest, Father Nicolás Tamaral, in 1730. It has been destroyed and rebuilt several times, and the current twin-tower structure was last restored in 1932 after it was damaged by a hurricane. The church satisfied my love for history, architecture and art, all in one.
The whole day was completely perfect from beginning to end. Okay, it wasn't completely perfect (it was blazing hot even after the sun set), but it was damn near perfect. If I could do it all over again, the only thing I'd do differently is savor each moment individually, like in slow motion. I'd hug each person a little tighter, and add a few more family members who couldn't be there with us. Unfortunately, I can't do it all over again. But I'm okay with that because I know that our wedding day was just about as perfect as they come.
Sadly, I also don't have photos of the food we served at our wedding. I'm sure if I look through all of our family and friends' photos, I might find some halfway decent shots of what they ate. None of which would be beautiful or tasty enough to do the menu justice, I'd bet. I do, however, still have a copy of the menu so you can imagine it.
Here's what we served:
Entrada Caliente / Appetizer

Chile Poblano, relleno con queso y envuelto en pasta de hojaldre con salsa de jitomate asado / Poblano chile, stuffed with cheese and enveloped in puff pastry with roasted tomato sauce

Ensalada / Salad

Ensalada Mexicana con queso de cabra, jitomate en cubitos, pimientos, cebolla y granos de elote, servido con Juliana de tortilla frita, aderezo de cilantro y miel / Mexican salad with goat cheese, diced tomato, peppers, onion and corn, served with crunchy tortilla strips and drizzled with cilantro-honey dressing

Plato Fuerte / Main Course

Chuleta de cerdo adobado, cortes dobles gruesos, marinades en achiote con cebolla picada y servido con salsa de frijol negro y mango, chayote, maiz en grano y pimiento marron, con papas con oregano / Thick, double cut pork chops, marinated in achiote and slowly baked. Topped with pickled onions, served with black bean mango salsa, stewed chayote, corn, red pepper and oregano potatoes

o / or

Filete de Huachinango a la talla con achiote y servido en hoja de plátano. Timbal de arroz basmati y confetti de vegetales / Red snapper filet marinated in achiote and served in a banana leaf with basmati rice and a confetti of fresh roasted vegetables

Postre / Dessert

Flan de Kahlua y con avellana y reja de chocolate / Flan made with Kahlua liqueur, hazelnut and drizzled with chocolate
Yes, we served our guests flan for dessert instead of having a traditional wedding cake. We chose to have a very small pastel de tres leches to cut at our reception. We ate one slice and then the cake was whisked away and saved for us to eat throughout the rest of our honeymoon week.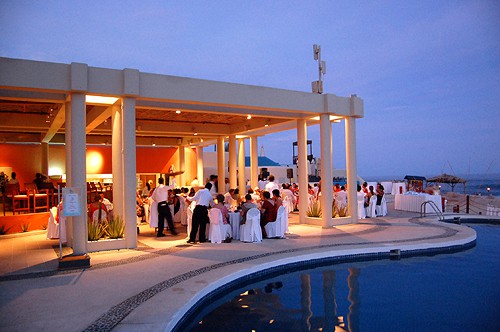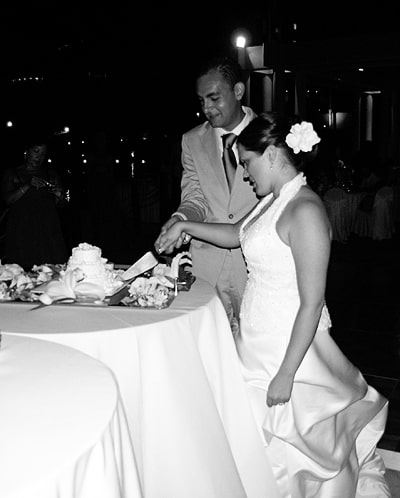 We ate. We drank. We laughed. We danced.
We danced all night long. Our wedding even had an after party – until around 4 a.m. (hours after we'd retired to our honeymoon suite), and then those who were truly hard partiers, as we learned the next day, took their celebrating to the beach.
To this day, our friends still talk about how much fun they had at our wedding. We received so many gifts, some from people I didn't even know and that José had perhaps only met once. Thankfully, most of the gifts were sent to our home in Chicago instead of brought to Los Cabos for the wedding so we didn't have much extra to carry home.
One of my favorite gifts we received, though, was from a friend who did not make it to Los Cabos to celebrate with us. It was a simple but beautiful pair of antique silver candlesticks. They had been sent to my suegros' house and we brought them back home after our next visit to Mexico City after the wedding.
The accompanying card was what touched me most.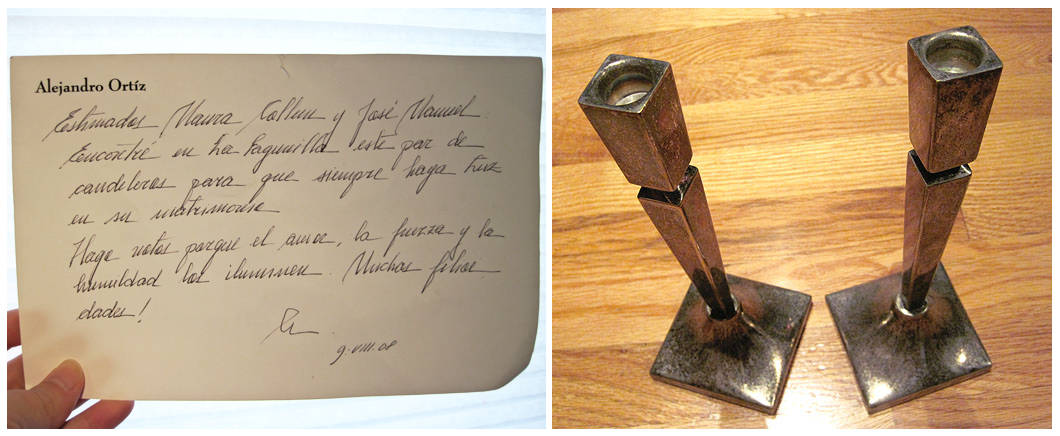 Estimados Maura Colleen y José Manuel,

Encontré en La Lagunilla este par de candelabros para que siempre haya luz en su matrimonio.

Haga votos para que el amor, la fuerza y la humilidad los iluminen. ¡Muchas felicidades!
This week, I vow to polish my candlesticks and use them. I normally display them on a shelf and they've gotten quite tarnished over the last few months, as you can see. I challenge you to take out your favorite pair of candlesticks, clean them if necessary, and use them in the next week or two to dine by candlelight with someone you love.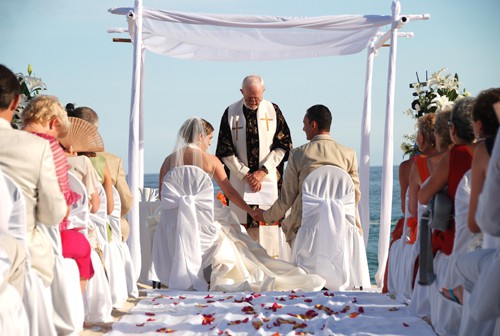 Until I met José, I never knew it was possible to love someone more and more each day. He was a big part of my inspiration to start this blog and he has always encouraged my writing here. Even when it's about him. And for that, I love him even more.
Feliz aniversario, mi amor. Te quiero muchísimo.
0