At 247 calle Londres, where Londres meets Allende in a colorful old part of Mexico City called Coyoacán, lies the Casa Azul – the place where Frida Kahlo once lived and that is now a museum in her honor. I imagine that the blue walls both inside and out have probably been repainted several times over to maintain the vibrant shade of cobalt blue that I've never quite seen replicated outside of Mexico City, but I still had this eerie feeling when I stepped inside like I was stepping back in time. It's a feeling I often get when visiting Mexico City – and in some strange way, it's one of the reasons it feels like home to me. I had to suppress the urge to touch the paint, as if I might be lucky enough that a little bit would rub off and I could take a little piece of that cobalt blue home to Chicago with me.
I've lost count of how many times I've actually traveled to Mexico City by now, but the one thing I haven't lost track of is how many historical and cultural places I still haven't yet visited. Until a few weeks ago, Frida's Casa Azul was one of them. I'd passed by it before, both walking and driving, on my way to the mercado in Coyoacán. Someday, I'll visit every last one on my list. But this day was dedicated to Frida.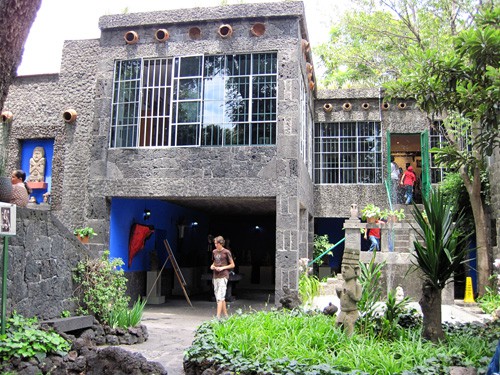 It was a phenomenally special experience to be inside Casa Azul, and I was disappointed over only one thing: they don't allow photos or video inside the museum and the staff is VERY vigilant about the rules. They allowed photos outside and in the courtyard, which you see here. I wanted to be able to record all the details inside so that I could see them again and again, but instead I just have to close my eyes really tight and remember each of the rooms as I experienced them. Some of the rooms are fuzzy in my memory, but the important ones are mostly there. And I must've spent close to 10 minutes standing in front of Viva La Vida, the still life painting of the watermelons (seen in my last post), which is one of my favorites.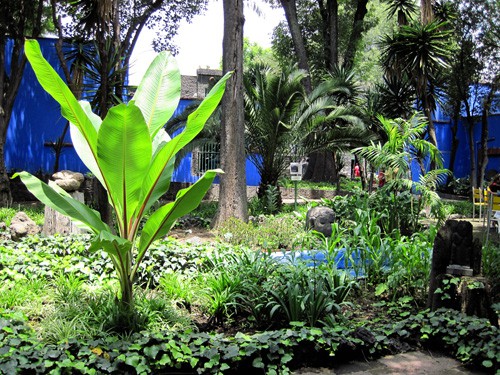 I felt particularly overcome with emotion in the kitchen, Frida's bedroom and the adjacent artist's studio that doubled as a library on the second floor. I was utterly fascinated by the books in the studio – there were books from many different countries, in all different languages. I imagined Frida and Diego poring over the books in the library or one of the various nooks I noticed throughout the house that would've been perfect for curling up with a good book and a cup of coffee in just the same way that I like to do at home.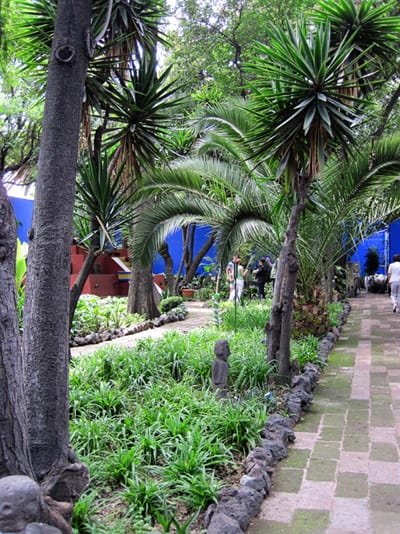 The kitchen was a bit smaller than I had expected, but had a very high ceiling. I felt a tinge of jealousy over the humongous olla de barro that sat on the stove. I could only dream of having an olla so big in my little city apartment. It was strange to imagine Frida standing tall enough over some of the pots to stir them, actually. The room was roped off, so visitors could only walk about two feet into the room to admire it. But it was so stunning. The blue, yellow and white azulejos brought tears to my eyes though they were relatively plain, and little decorative pots danced across the wall, spelling out Frida and Diego on each side of the wall over the stove area and two doves on the adjacent wall. I could see why she spent so much time in the kitchen here. And then in another room, there were these beautiful electric blue handmade glasses on a shelf just barely within my reach that looked exactly like a set of glasses that José's abuelita Elda once owned. A few of those glasses from her collection now sit protected in a glass curio cabinet above a bureau containing silverware and table linens in my suegra's dining room.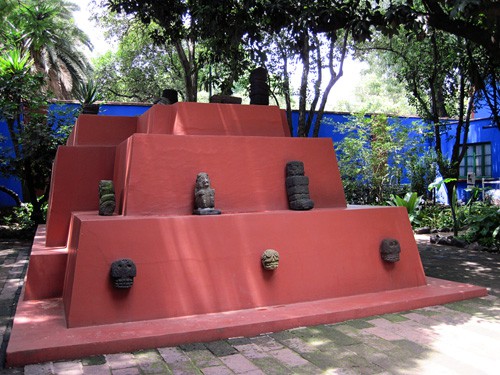 The day before I left, as always, I took my trip down the street to the local Gandhi bookstore with my suegro. After I was finished perusing the gastronomía section, we found a book called "Frida Kahlo: Sus Fotos" as we walked through an aisle toward the register and it was open to a page that I recognized. The book contains Frida's private collection of photographs, which is currently on display at the museum until December 2010; all in their original print form, some were so small they had to be viewed with a magnifying glass tethered to the wall. On the open page was a photo of the bedroom just off the artist's studio on the second floor. In the exact spot where I had stood on the side of the bed the week before, Frida had sat and been photographed with her pet spider monkey, Fulang Chang. I felt chills up my spine. Now I know I have to go back and visit Casa Azul again. I'm convinced the swells of emotion in particular rooms were not just my excitement, but rather a sort of woman's intuition picking up on her presence there.
I left feeling energized and couldn't stop thinking about it. Of course, when I had started picking random books off shelves in the gastronomy section earlier, one with a bright pink and orange spine caught my attention. And so the next Spanish-language book on my reading list was also purchased on my trip – "Hierba Santa" by Alexandra Scheiman. It's the author's first novel, and it's all about Frida and a little book she kept to record the recipes of all the things she'd make as offerings for el Día de Los Muertos. I just couldn't resist once I read the preface and the book also includes recipes at the end of each chapter.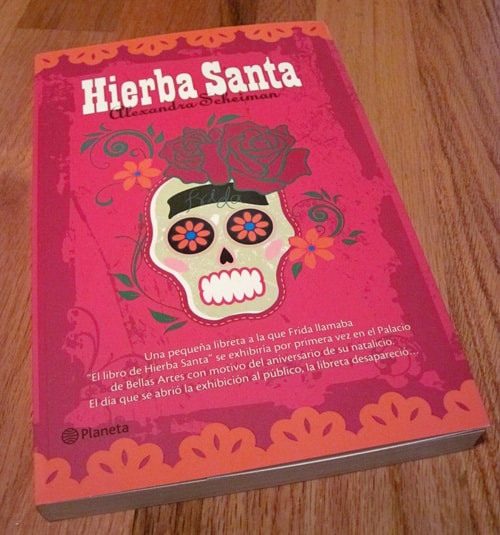 PREFACE FROM "HIERBA SANTA" :
EL DOCUMENTO PERDIDO DE FRIDA

Entre los objetos personales de Frida Kahlo había una pequeña libreta negra a la que llamaba "El libro de Hierba Santa". Era una colleción de recetas de cocina para elaborar las ofrendas con motiva del Día del Muertos, ya que de acuerdo a la tradición, el 2 de noviembre los difuntos obtienen permiso divino para visitar la tierra, y debe recebírseles con un altar formado por flores de cepasúchil, panes azucarados, fotografías cargadas de añoranzas, estampas religiosas, incienso de olores místicos, juguetonas calaveras de azúcar, veladoras para iluminar el camino a la otra vida, y con los platillos predilectos de los difuntos. Al ser descubierta entre los objetos del museo ubicado en la calle Londres en el hermoso barrio de Coyoacán, se convirtió en un valioso hallazgo que exhibiría por primera vez en la monumental exposición en homenaje a Frida en el Palacio de Bellas Artes, con motivo del aniversario de su natalicio. Su existencia confirmaba la pasión y el tiempo que dedicaba a levanter sus famosos altares de muertos.

El día que se abrió la exhibición al público, la libreta desapareció.
I visited Mexico City and Aguascalientes from July 20-28, 2010. If you liked this post, stay tuned for more travel stories and photos from the trip! If you can't make it to Casa Azul, you'll enjoy the virtual tour that shows parts of the property (including the kitchen) on the Museo Frida Kahlo's website.

0