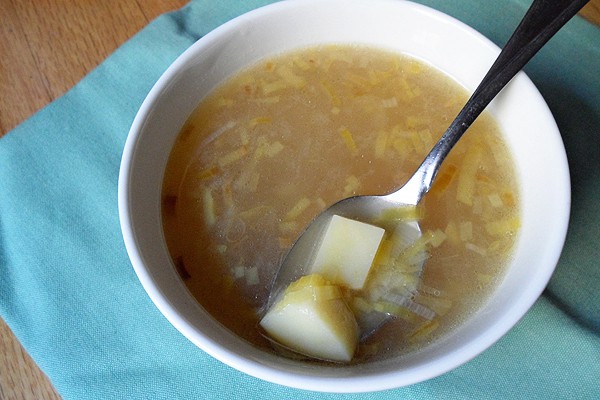 I don't know what it is about fall that makes me want to eat nothing but soup. I'd say it's the chill in the air, but since we had an unusually warm beginning to October in Chicago like I mentioned last week, I know that can't be the only factor. Come the beginning of fall, like clockwork, I always want to eat soup for lunch and dinner almost every single day. Now that the weather is cooling off, I have an entire page-long list of all the soups I want to make at home.
This particular recipe is one I've eaten many times in Mexico and I consider it to be a comfort food. During my visit to Mexico City last month, Luci, the family cook, made this as a first course for lunch on a chilly and gloomy afternoon and it was exactly what I needed to lift my spirits.
When I returned to Chicago, I was really missing our family so I decided to make this soup to cheer myself up. The truth is, there's something about making recipes that I've eaten in Mexico that makes Chicago seem like it's not so far away from the people and places I love in Mexico. Before the soup was even finished cooking, José said, "huele a mi casa." (Translation: "It smells like my house.") There are few compliments that warm my heart more, and I was feeling a little better already.
You can substitute vegetable broth for the chicken broth to make this soup completely vegetarian if you'd like. One last note: although leeks are known as "poro," sometimes you may see it spelled "puerro" depending on where you come from. Either way is correct, but in Mexico City, they say "poro."
RECETA
1 cup leeks, sliced
2 cups cubed small potatoes (white or yellow)
3 cups chicken broth
1 tablespoon vegetable oil
1 1/2 teaspoons kosher salt (or more to taste)
Cube the potatoes and slice the leeks. Heat oil in a soup pan over high heat until it's hot, but not splattering. Add the potatoes and leeks and reduce the heat to medium-high. Fry the potatoes and leeks for a few minutes until the leeks start to turn translucent and some of them turn golden brown. Add the chicken broth to the potatoes and leeks and bring to a boil over medium-high heat.
Continue to boil for 4-5 minutes and then reduce to a simmer for about 10 minutes or until you can poke the potato with a fork and it slides in easily. Be careful not to overcook the soup or the potatoes will begin to get mushy.
Yields 2-3 servings. Store leftovers in an airtight container in the refrigerator for 7-10 days, give or take a day depending on the kind of broth you use.
How do you make your sopa de poro y papa?
32