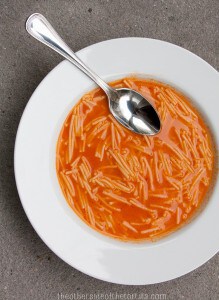 Sopa de fideo
Yield 4
A traditional Mexican tomato broth soup with noodles. Perfect for rainy days and whatever ails you!
Ingredients
6 medium tomatoes, roasted (I like to use vine-ripened or Roma tomatoes)
2 tablespoons vegetable oil
2.5 teaspoons of kosher salt
1 big slice of white onion
1 large clove of garlic
3 cups chicken broth
1 cup fideo cut noodles
Instructions
Roast tomatoes in a shallow cazuela (or a ceramic or glass casserole dish) under low broiler heat on each side until both the top and the bottom have blackened a bit.
Remove the tomatoes from the oven and transfer to a blender. Puree the tomatoes.
In a saucepan, heat 2 tablespoons of vegetable oil over a medium-high flame. Put one spoonful of tomato puree in the hot oil to make sure it is hot enough to fry the puree. When the oil is hot enough, pour the tomato puree slowly from the blender into the saucepan. Let the tomato puree fry for about 5 minutes over medium-high heat, stirring a few times once a minute; be careful, the puree may splatter.
Pour the fried puree back into the blender and add the salt, onion and garlic. Blend well so puree is completely smooth. Pour back into pan and add the chicken broth. Bring to a boil and then turn down to medium heat for 20-25 minutes until the liquid reduces a bit. Remove from heat and let cool for about 10 minutes.
If using spaghetti or vermicelli noodles: While the soup is cooling, break up the vermicelli noodles into small pieces until you have 1 cup of noodles. I like my soup heavy on the noodles, but you can use less than 1 cup if you prefer.
Once the soup has cooled a bit, using a mesh sieve over a deep bowl, pour liquid into sieve and strain the puree so the liquid flows through into the bowl. Use a spoon to press puree against the sides of the sieve to force the liquid out. When the puree is mostly dry and all that remains is a paste, scrape the outside of the sieve and add to the soup.
Pour the bowl back into a clean saucepan and heat over medium-high flame. Add the noodles. Bring to a boil and then reduce to medium heat, cooking for 7-8 minutes or as directed on the vermicelli packaging. Remove from heat and let cool slightly. A thin skin may form over the top of the soup; use a spoon to remove it and discard.  Soup will thicken slightly with the addition of the noodles and upon cooling.
Ladle into bowls.
Notes
When reheating leftovers, add a few tablespoons of water per serving.
Courses Lunch/Dinner
Cuisine Mexican
Recipe by The Other Side of the Tortilla at https://theothersideofthetortilla.com/2010/03/sopa-de-fideo/