If you've spent even one Thanksgiving at an average American dinner table, you've likely encountered sweet potatoes or yams with some kind of brown sugar or maple syrup and a marshmallow topping. I'm not knocking the tradition—in fact, I grew up eating it and usually get a craving around this time of year—but there are lots of other interesting things you can do with sweet potatoes.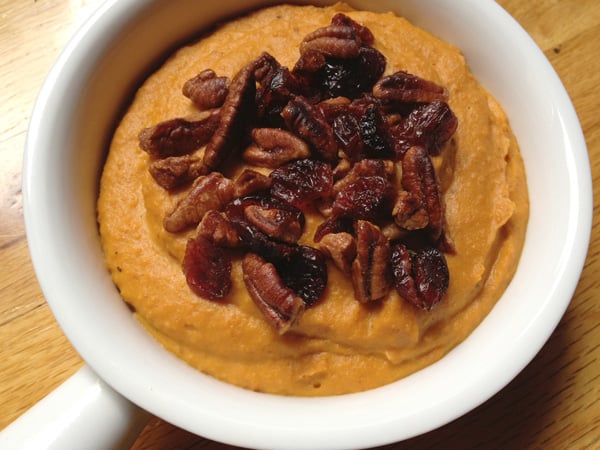 Though Thanksgiving is not a Mexican holiday, I decided to give a few traditional dishes a Mexican twist to surprise my family. This one was an instant hit, and over the years it has also become a reader favorite!
Here's a recipe I developed to dress up the traditional sweet potatoes we usually serve on our Thanksgiving table. And, with the calorie-rich menus typically served around the holidays, this recipe is a bit healthier than traditional mashed potatoes that may be made with tons of butter and heavy cream.
Marsala is a non-traditional ingredient to Mexican cooking but adds an interesting depth and sweet, nutty flavor to this dish. The chipotle should add a smoky flavor, but not be too spicy. If you're afraid your troops will stage a revolt at the dinner table for doing something too different, you can always cut out the chipotle and add twice the adobo sauce to weaken the chile flavor so they don't notice too much that you've given them the old switcheroo on the sweet potatoes.
Enjoy and Happy Thanksgiving from our home to yours!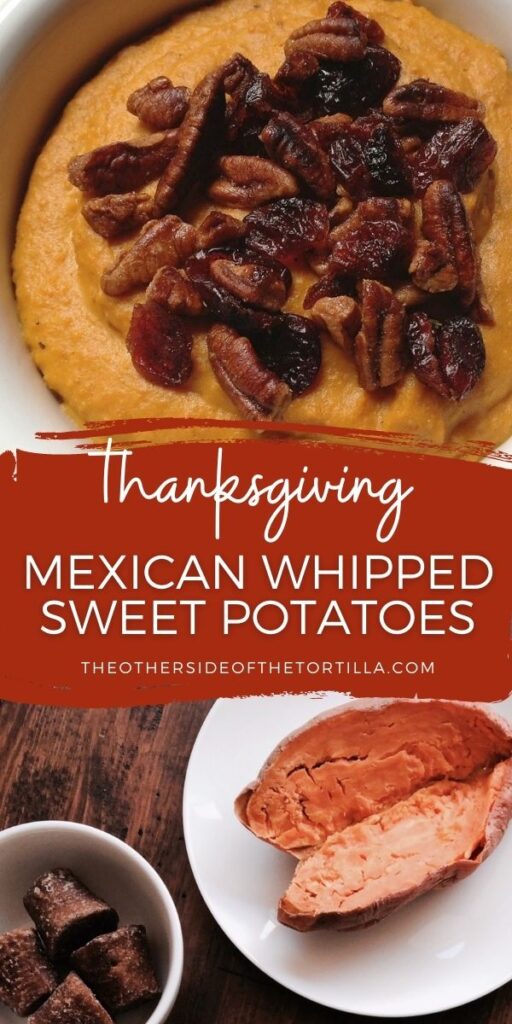 Looking for other Thanksgiving recipes? Here are some of our favorites:
Mexican Cinnamon Cranberry Sauce
Mexican-style Turkey Stuffing with Chorizo
Papas Gratinadas (Mexican potatoes au gratin)
Print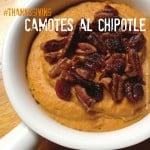 Mexican-inspired sweet potatoes // Camotes al chipotle
Yield:

Yields

4

servings

1

x
---
Description
Camotes al chipotle is a whipped sweet potato dish that gets a hint of smokiness from chipotle chiles and adobo sauce. This dish is also much healthier than traditional mashed potatoes or the typical American sweet potato casserole topped with sugar and marshmallows, making it ideal for a healthy side dish at your Thanksgiving table.
---
1

pound sweet potatoes, skinned and cubed

1 tablespoon

canola oil

1/4 teaspoon

kosher salt

1/8 teaspoon

freshly ground black pepper
chipotle en adobo (1/2 of one chile and 1 tbsp adobo)

1/2 cup

evaporated milk plus 1 tablespoon (also called leche evaporada)

1 1/2 tablespoons

of Holland House Marsala Cooking Wine

5 tablespoons

of water

1 tablespoon

of butter

4

small cones of piloncillo (about

3 ounces

)
glazed pecans and dried cranberries (optional for decoration)
---
Instructions
Preheat the oven to 375º F. On a lined baking sheet, use a pastry brush to lightly coat the cubed sweet potatoes with the canola oil. Sprinkle with the salt and pepper on top and roast the sweet potatoes for about 45-60 minutes or until browned and soft.
When the sweet potatoes are done roasting, remove them from the oven and let them sit for 5-7 minutes. Melt the butter, piloncillo, marsala and evaporated milk in a saucepan over low heat. Add the adobo sauce but not the chiles yet. Stir to incorporate. Once the butter and piloncillo are completely melted, remove the saucepan from the heat and allow to cool for about 5 minutes.
Put the roasted sweet potatoes and chipotle into a food processor or blender. Pulse a few times to get a paste going. Slowly add the liquid and run until moderately smooth. Add the extra 1 tablespoon of evaporated milk to moisten if needed.
Using a spatula, remove the puree from the food processor or blender and put it into an oven-proof serving dish. Garnish the top with glazed (or plain) pecans and dried cranberries. Place under a preheated broiler for a few minutes until the pecans look like they're beginning to roast and smell nutty. Remove from the broiler and serve.
---
6