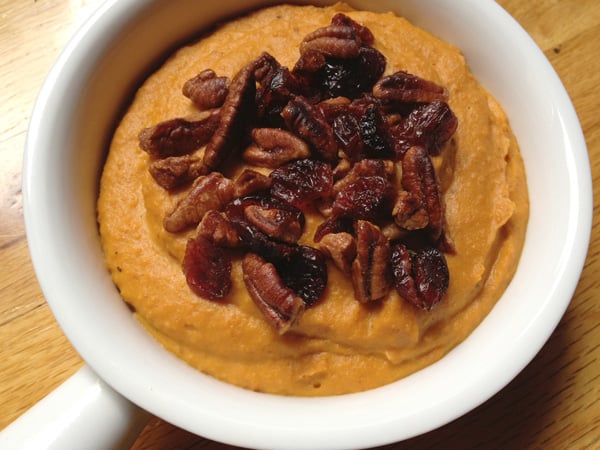 If you've spent even one Thanksgiving at an average American dinner table, you've likely encountered sweet potatoes or yams with some kind of brown sugar or maple syrup and a marshmallow topping. I'm not knocking the tradition—in fact, I grew up eating it and usually get a craving around this time of year—but there are lots of other interesting things you can do with sweet potatoes, in my honest opinion.
Now that everyone in my family knows about my culinary skills, I've felt the need to give my menu a few new touches to keep things interesting. Though Thanksgiving is not a Mexican holiday, I decided this year to give a few traditional dishes a Mexican twist to surprise my family.
Here's a recipe I developed to dress up the traditional sweet potatoes we usually serve on our Thanksgiving table. And, with the calorie-rich menus typically served around the holidays, this recipe is a bit healthier than traditional mashed potatoes that may be made with tons of butter and heavy cream. The marsala is a non-traditional ingredient to Mexican cooking but adds an interesting depth and sweet, nutty flavor to this dish. The chipotle should add a smoky flavor, but not be too spicy. If you're afraid your troops will stage a revolt at the dinner table for doing something too different, you can always cut out the chipotle and add twice the adobo sauce to weaken the chile flavor so they don't notice too much that you've given them the old switcheroo on the sweet potatoes.
Enjoy and Happy Thanksgiving from our home to yours!
[youtube]http://www.youtube.com/watch?v=ipQwVjhE7qM[/youtube]…