If you hadn't already heard, The Tortilla is turning into a traveling food blog for the month of December (and part of January)! I arrived here in Mexico City late Tuesday night, narrowly escaping blizzard-like conditions that hit Chicago shortly after my plane took off in the early afternoon. As I claimed my luggage, I began to feel a little trickle of sweat down the back of my neck. It's been warm here, with highs in the upper 70s during the day (or around 25 degrees C if you use the metric system) and about 50 degrees F at night (10 degrees C). I'm not used to such warm temperatures in Mexico City in December because I usually don't get here until Christmas Eve when it's already chilly. Last year on Christmas Eve I remember wearing a winter coat.
Obviously, the first stop after leaving the airport was at a taquería for tacos al pastor. Knowing I had 10 more days ahead of me, most of which would end up taco-filled, I held back a bit and didn't overindulge like I normally would. Last time I failed to pace myself with the tacos, I ended up with a case of killer indigestion that only a box of Onotón and some Melox could subdue.
Wednesday was my birthday, and if you've been a reader long enough you've probably already guessed I went to one of my favorite places for sopa de tortilla, La Guadiana in San Ángel. I also was treated to some delicious taquitos de chicharrón prensado and Sábana Azteca, a very thin piece of steak over a bean sauce, covered with cheese and topped with rajas con crema. I was in heaven.
While here, I've been dreaming up what recipes to share with you in the coming months. I'm working on learning a few holiday recipes from my suegra–including one of my favorites, ponche Navideño. It's a Christmas fruit punch, served warm. The recipe comes from José's abuelita.
For lunch yesterday, we made empanadas with a picadillo de carne molida (ground beef) that had jitomate (red tomato), cebolla (onion) and chile. Thought we cheated and used pre-made dough, they tasted just like they were made from scratch. I'm in the process of obtaining and translating the recipe, which I hope to share here very soon. In the meantime, here's a sneak peek of what they look like: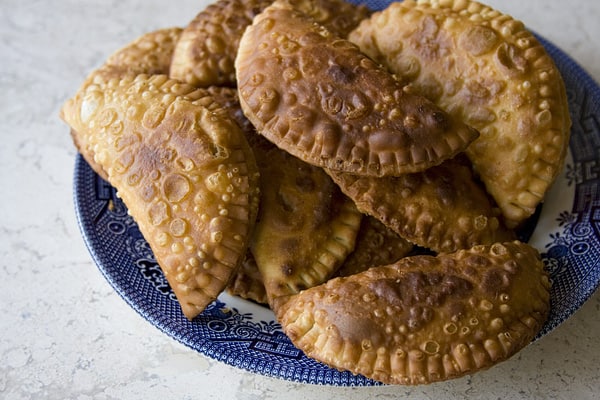 I'll be posting more soon from Mexico once I've got more photos and stories to share. ¡Hasta luego!
0