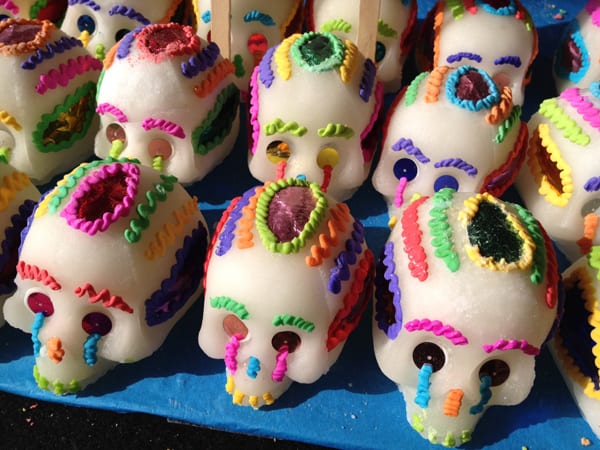 I recently visited the National Museum of Mexican Art, located in the Pilsen neighborhood of Chicago, on a special mission: I was hoping to buy calaveras de azúcar for my altar de muertos. But not just any calaveras—I was hoping to buy handmade and hand-decorated calaveras from the famous Mondragon family.
Sugar skulls are truly an art form and the Mondragon family from Toluca, Mexico, has been making hand-decorated sugar skulls for around 150 years, spanning five generations. They've been coming to the museum to make them in Chicago since 1995 as a way for people to hang on to their culture so far from home and to share Mexican tradition and culture, they told me.
Sugar skulls are often used as a decoration for an altar de muertos or given as gifts for Día de Los Muertos. It's common to also put the names of family members on the forehead of the sugar skull. Some families only put names of the deceased, while others put names of the living on them as well.
Alejandro Mondragon Arriaga and his wife Elvira Garcia Zinzu travel with one of their daughters to Chicago to make their famous sugar skulls at the museum every year while the rest of the family stays behind in Mexico to make them there. Their family is one of less than a dozen left who are dedicated to this traditional craft, Elvira told me. At one time, she said, there were dozens and dozens of families who made them and sold them all over Mexico.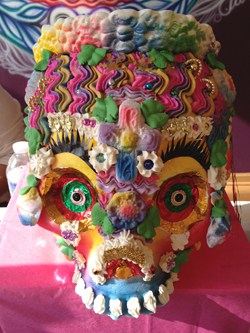 Elvira told me they even participate in competitions in Mexico with their sugar skulls. She told me the large skull pictured here took her one month to make because some of the decorations had to completely dry in the sun before they could be attached to the skull with icing.
To make the sugar skulls, they heat sugar and water in a copper pot to make a paste called alfeñique, and then pour the paste into clay molds. Depending on the size of the mold, the sugar could need anywhere from about one day to one week to cure and harden. Partway through the process when the sugar is starting to solidify, they scoop out the middle of the skull so that it becomes a hollow shell. Some skulls are made of a single piece in one mold, but the larger ones are made in two pieces that will be put together with icing.
When I asked Elvira what the icing was made of, she told me basically just sugar, water and lime juice and piped a little bit of green icing onto my finger and told me to taste it. It was sweet like I'd expected with a hint of lime. I stood and watched Elvira as she piped icing onto miniature sugar skulls. She was kind enough to also allow me to take a few photos while she worked.
While I chatted with Elvira about the process of making the sugar skulls and the competitions, Alejandro piped the icing on my skulls with the names of all of José's abuelos. You'll see these again soon on my altar de muertos when we celebrate Día de Los Muertos on November 2.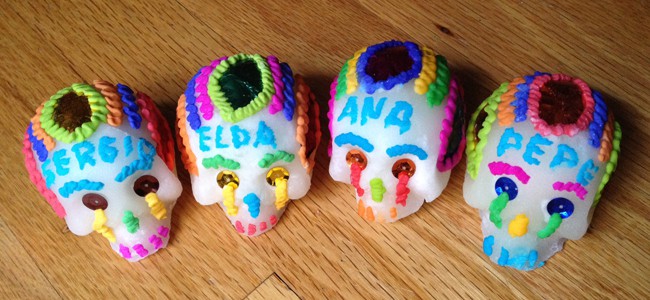 Do you make your own calaveras de azúcar for Día de Los Muertos?
Marca País – Imagen de México, is a joint public and private sector initiative designed to help promote Mexico as a global business partner and an unrivaled tourist destination. This program is designed to shine a light on the Mexico that its people experience every day. Disclosure:  I am being compensated for my work in creating content for the México Today program. All stories, opinions and passion for all things México shared here are completely my own.
0