Today marks the 104th anniversary of the birthday of my favorite Mexican artist, Frida Kahlo!
If you're not familiar with Frida's life, work, or the famous Casa Azul, you can read more about them on the Museo Frida Kahlo website (in English). And if you're ever visiting Mexico City, Casa Azul is one of the places you absolutely must visit.
It's a magical place where you can feel her presence in just about every room and in the garden as well.
At the time I last visited Casa Azul, a stunning and thought-provoking private collection of photographs of Frida, Diego and their family and friends, entitled "Frida Kahlo: Sus Fotos," was on display and many of the photographs were taken by Frida herself. It was an incredibly interesting glimpse into her life and how things looked from her point of view. You can read more about the photo exhibition, which ran through December 2010, on the museum's website (in Spanish).
Just imagine how Frida viewed her lush garden each morning… She often liked to sit on the terra cotta pyramid (pictured left) with her pet monkey, according to books I've read and photographs I've seen.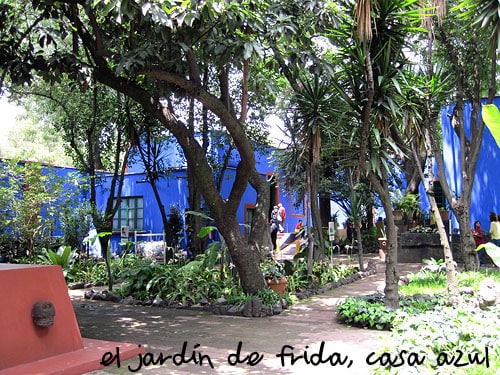 If you're interested in purchasing the book with the same photo collection I saw in the museum, here are a few places where you can order it online (I get no commission or credit for the places you buy it from, nor from the sale of the book; I just want to help you find it!):

IN THE U.S.
Buy the book in Spanish – "Frida Kahlo: Sus Fotos"
Buy the book in English – "Frida Kahlo: Her Photos"

IN MEXICO
Buy the book in Spanish – "Frida Kahlo: Sus Fotos"
When I visited Mexico City in December last year I had the chance to view some more of Frida's paintings from the private collection of Dolores Olmedo, a friend and patron of Diego Rivera (Frida's husband), who turned her hacienda into a museum of their work and a showcase for other art and artifacts she collected from around Mexico as well as her world travels. Olmedo was also the executor of Diego and Frida's estate until her death in 2002, and her private collection is still to this day one of the largest of their collective works under one roof as well as the single largest collection of Frida's works.
I'll write another time about my visit to Museo Dolores Olmedo, but for today…
¡Feliz cumpleaños Frida!
2