Eggs Benedict is one of the most popular breakfast dishes served in the United States, so I gave it a Mexican makeover with chorizo, ancho chile hollandaise, and Herdez Guacamole Salsa.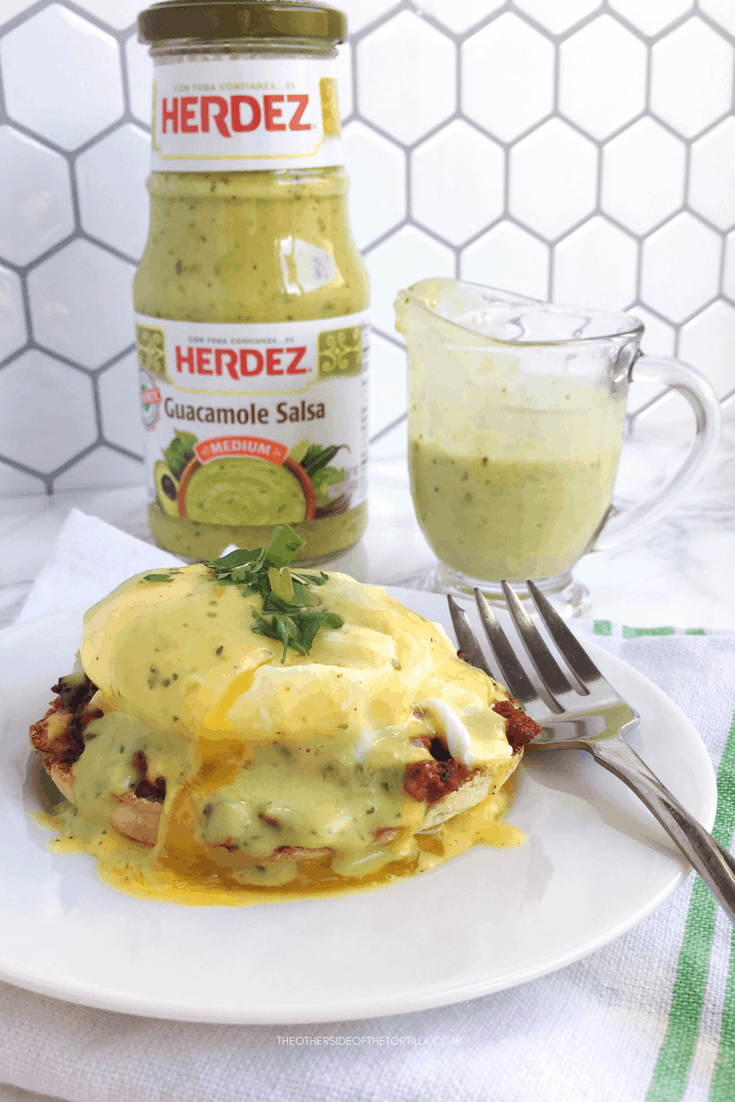 This post is part of a compensated campaign in collaboration with HERDEZ® and #WeAllGrow Latina Network. All opinions and the recipe here are my own.
I would eat breakfast food for three meals a day if nobody prevented me from doing it. I LOVE poached eggs, and I'm no stranger to spreading chorizo on avocado toast, so I already knew Herdez Guacamole Salsa would pair perfectly with this dish.
The creamy texture of real avocado and the spicy kick of salsa verde is what makes the salsa so unique. You can use it for topping, dipping and cooking—there's no wrong way to do it!
Sometimes I even drizzle a little guacamole salsa straight over sunny side-up or scrambled eggs. Try tossing it inside an omelet with Chihuahua or Oaxacan cheese and some veggies. You really can't go wrong. But let's focus on the huevos benedictinos, shall we?
Eggs Benedict is typically made with toasted English muffins, ham or Canadian bacon, and a poached egg, covered in hollandaise sauce. To give it a more Mexican spin, I swapped the ham for chorizo and made my own ancho chile hollandaise. Drizzled with guacamole salsa on top, these eggs Benedict have a distinctly Mexican flavor. Another version of this dish, eggs Florentine, is basically the same except you replace the ham with spinach, so that would be a good vegetarian substitute here if you don't eat chorizo.
Making your own hollandaise in the blender is really easy and just takes a few minutes, so don't hesitate to try it out. (Seriously, it takes less than 5 minutes.) You can substitute any ground chile powder you like if you don't have ancho.


PRO TIP FOR POACHING EGGS
The secret to the perfect poached egg is that you need to keep the water whirlpool going while you pour the egg into the middle of the whirlpool. If you fail to get it in the middle of the whirlpool, the egg white will feather and it won't look very appetizing — and although it may not look pretty, it will be perfectly edible, so if you mess up, it won't ruin the dish. It may take you a couple tries to get the perfectly poached egg.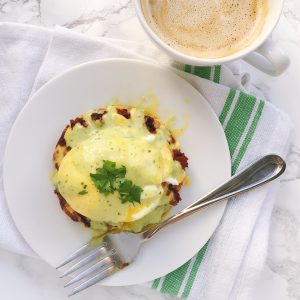 Print
Mexican Eggs Benedict
Yield 4 servings
The quintessential brunch dish gets a Mexican makeover with chorizo, ancho chile hollandaise and Herdez guacamole salsa.
Ingredients
8 ounces Mexican chorizo
2 English muffins, toasted and lightly buttered
4 eggs, poached
1/2 tablespoon distilled white vinegar (for poaching the eggs)
1/4 cup Herdez Guacamole Salsa
Cilantro for garnishing
ANCHO HOLLANDAISE
2 large egg yolks
1/2 tablespoon fresh lemon juice
1/4 teaspoon kosher salt
1/8 teaspoon ground ancho chile powder
1/4 cup butter, melted
Instructions
In a frying pan, cook 8 ounces of Mexican chorizo until completely cooked through but not burned. Set aside. 
Fill a saucepan with water halfway to the top and bring to a simmer.
While the water is heating on the stove, separate 2 egg yolks and put them in the blender with 1/2 tablespoon fresh lemon juice and 1/4 teaspoon kosher salt. 
Microwave 1/4 cup butter until completely melted. Turn the blender on to mix the egg yolks, lemon juice, salt and 1/8 teaspoon ground ancho chile powder at a medium speed. Slowly pour the butter in through the hole in the top of the blender lid with the blender still going. It should take about a minute for it to be well-blended.
Crack open one egg at a time into a small prep dish (you don't want to crack the egg directly into the water). 
Toast your English muffins, lightly butter them, then spread 1/4 of the chorizo (about 2 ounces) on each muffin half. Set aside.
By now, your saucepan should be simmering; add 1/2 tablespoon of distilled white vinegar and stir with a spoon to incorporate. Continue stirring the simmering water in a circular motion to create a whirlpool. Have your prep dish in one hand and continue stirring with the other. When you have a good whirlpool going, remove the spoon, pour the egg from the prep dish directly into the vortex of the whirlpool as close to the water as you can get (this prevents the egg whites from feathering), and cover the pot with a lid. Turn the stove off and let the egg poach for about 2-3 minutes, then remove with a slotted spoon and plate over the chorizo. Repeat with the other egg.
Pour the hollandaise sauce over the top of the poached eggs, followed by the Herdez Guacamole Salsa, to your liking. Garnish with cilantro and serve. 
Courses Breakfast
Cuisine Mexican
Visit the Herdez website for more recipes with their products, including the Herdez Guacamole Salsa.
The inspiration for this recipe? Cooking at chef Marcela Valladolid's house!
Yes, the same Marcela who co-hosts The Kitchen on the Food Network. She hosted a dinner party with a cooking class element that showed us creative ways to use Herdez Guacamole Salsa, which goes with just about everything!
Check out more of the evening we spent at chef Marcela Valladolid's house with Herdez:
You can also find Herdez on Facebook, Twitter and Instagram.
Other Mexican breakfast recipes you might like:
This is a sponsored conversation written by me on behalf of HERDEZ® and WeAllGrow Latina. The opinions and text are all mine.
15