This Oaxacan latte is also know as a Mexican mocha or café Oaxaca. It's a hot coffee drink that incorporates Mexican chocolate into the milk for a rich treat.
Serve this Mexican mocha latte with breakfast, brunch or even just alongside some pan dulce. I personally like to dunk orejas in my coffee!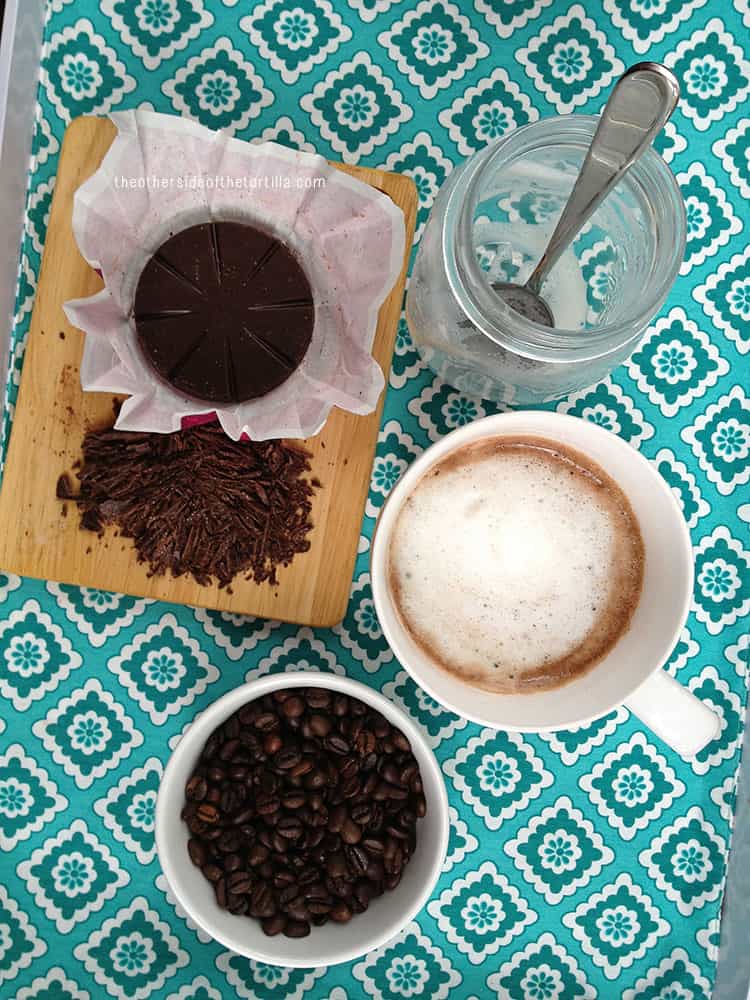 When I first moved to Los Angeles in 2013, a dear friend of mine introduced me to La Monarca, a Mexican bakery near where I'd be working. The first time she took me there, I ordered a drink similar to this recipe, called a Café Oaxaca, and have been making them at home ever since. In my first months in LA, I visited the bakery frequently because it was like a home base; a familiar place where I knew I'd find things I like such as café de olla and molletes. On days I felt like I was having a hard time adjusting to my new surroundings, I'd go to the bakery with my laptop, order this Mexican mocha and a piece of pan dulce, and I'd start to feel better.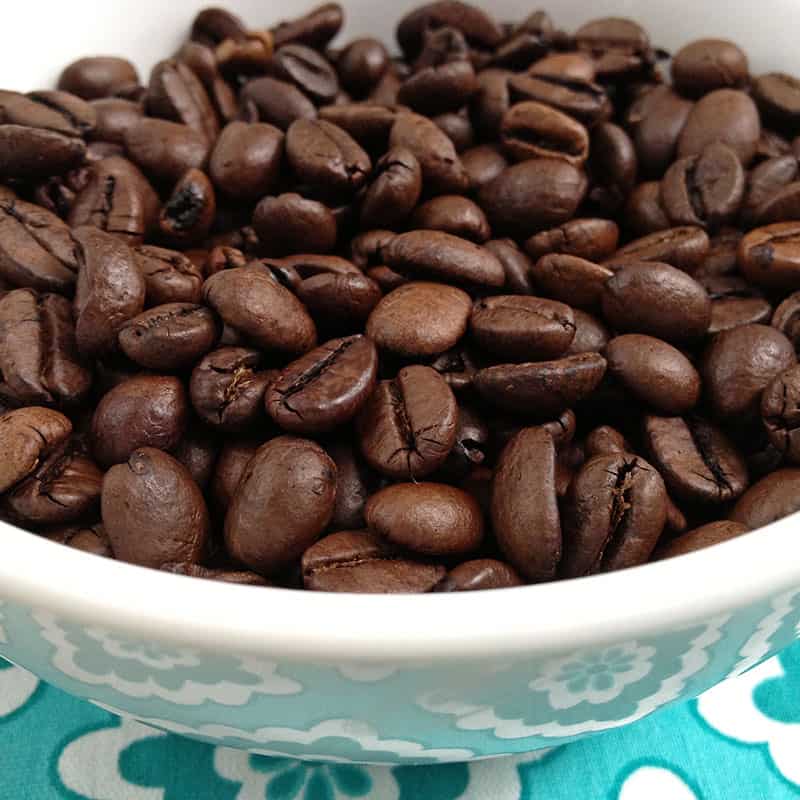 What is a Mexican mocha?
A caffè mocha (a coffee creation which is similar to a drink called a mochaccino, the cappuccino version) is traditionally defined as espresso, chocolate and hot milk; it's a chocolate-flavored variant of the standard caffè latte. Mexican chocolate gives this coffee drink a special twist, as the chocolate normally used is a chocolate syrup.
What kind of chocolate to use
I prefer to use Oaxacan chocolate discs whenever I can get my hands on them, but if you don't have a source to buy them from, you can use brands such as Ibarra, Nestle Abuelita or Taza Chocolate, all of which are available online. Those three brands are also easily found in many Mexican supermarkets and specialty stores in the U.S. as well (Whole Foods usually carries Taza).
Both Ibarra and Abuelita also make a powdered version of their Mexican chocolate which is already ground up, making it easier to use because you can just spoon it straight out of the package and into your cup. You can substitute this if you don't want to chop the chocolate. It looks like this:
How to make latte foam without a milk steamer or espresso machine
If you don't have a milk steamer or espresso machine for steaming and creating foam from milk, use a glass jar that holds at least two cups of liquid. Pour one cup of milk into the glass jar, screw on the cap to seal and shake vigorously for 1-2 minutes to create foam.
Remove the cap and microwave at 30-second intervals until the milk is hot enough for your liking. The short intervals in the microwave will stabilize the foam.
One it's reached your desired temperature, use a large spoon to hold the foam back while pouring the milk into the coffee then spoon the foam on top.
Print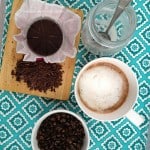 Mexican Mocha Latte
Author:

Prep Time:

10 minutes

Cook Time:

5 minutes

Total Time:

15 minutes

Yield:

1

serving

1

x

Category:

Beverage

Cuisine:

Mexican
---
Description
Make your own chocolatey latte with espresso or strongly brewed coffee, Mexican chocolate and milk.
---
2

shots of espresso or

1/3 cup

strongly brewed coffee

1 cup

milk

2 tablespoons

chopped Mexican tablet chocolate (such as Abuelita or Ibarra)
Optional: 2-3 teaspoons granulated sugar
---
Instructions
Brew two shots of espresso or 1/3 cup of strongly brewed coffee. Set aside.
Finely chop two tablespoons of Mexican chocolate (you can also use a cheese grater if you're not confident with a knife) and add to the coffee. Stir to dissolve.
Add the optional 2-3 teaspoons of sugar if you'd like the latte to be a little sweeter.
Steam one cup of milk with a little foam* and pour over the coffee and chocolate mixture. Add the foam on top and serve.
---
Notes
*If you do not have a milk steamer, frother, or espresso machine for creating foam, see note above for how to use a glass jar to make milk foam in the microwave.
Keywords: Oaxacan latte, Mexican mocha latte, Mexican coffee
You might also like my recipe with instructions how to make café de olla with a Keurig machine.
140