Café de olla is one of my all-time favorite Mexican recipes. In fact, it was the first recipe I ever posted here on The Other Side of The Tortilla. During the spring and summer, I love to drink iced coffee. Naturally, I came up with this recipe to enjoy a summer version of café de olla so I can drink it on ice—and it doesn't take me more than five minutes to make, so I can grab it to go in the morning as I head out the door to work.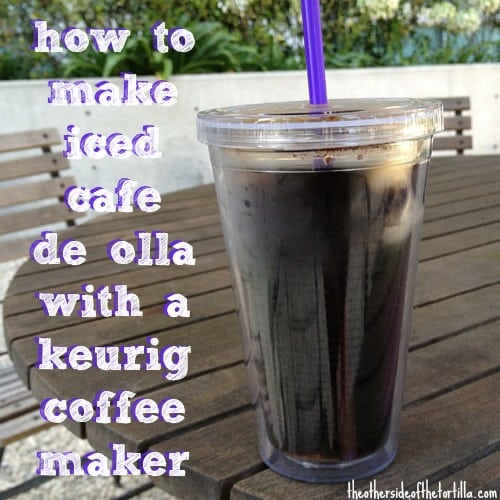 Of course, you can also make this recipe without the ice for a quick, hot version of café de olla if you're in a hurry. It doesn't have all the flavor depth of the traditional version which is infused slowly, but it's perfect for a quick fix!
This post includes affiliate links to my Amazon aStore, El Mercadito, recommending products that I used to make this recipe. I used a 16-ounce double-wall, BPA-free acrylic iced coffee cup tumbler to serve my iced café de olla and I have the Keurig Platinum Brewing System.
Iced Café de Olla with a Keurig Coffee Maker
A quick cheat recipe for making iced café de olla with your Keurig coffee maker.
Ingredients
Instructions
Add two tablespoons of dark brown sugar and 1/8 teaspoon ground cinnamon to a tumbler.
Add ice over the brown sugar and cinnamon.
Place tumbler under brewing area, insert the K-Cup into the machine and close the brewing unit.
Select the 7.25 oz serving size and brew.
Once the coffee has brewed over the ice, stir to dissolve the brown sugar and cinnamon. Add extra ice if desired.
https://theothersideofthetortilla.com/2013/07/how-to-iced-cafe-de-olla-keurig-machine/
©2009-2015 theothersideofthetortilla.com
28