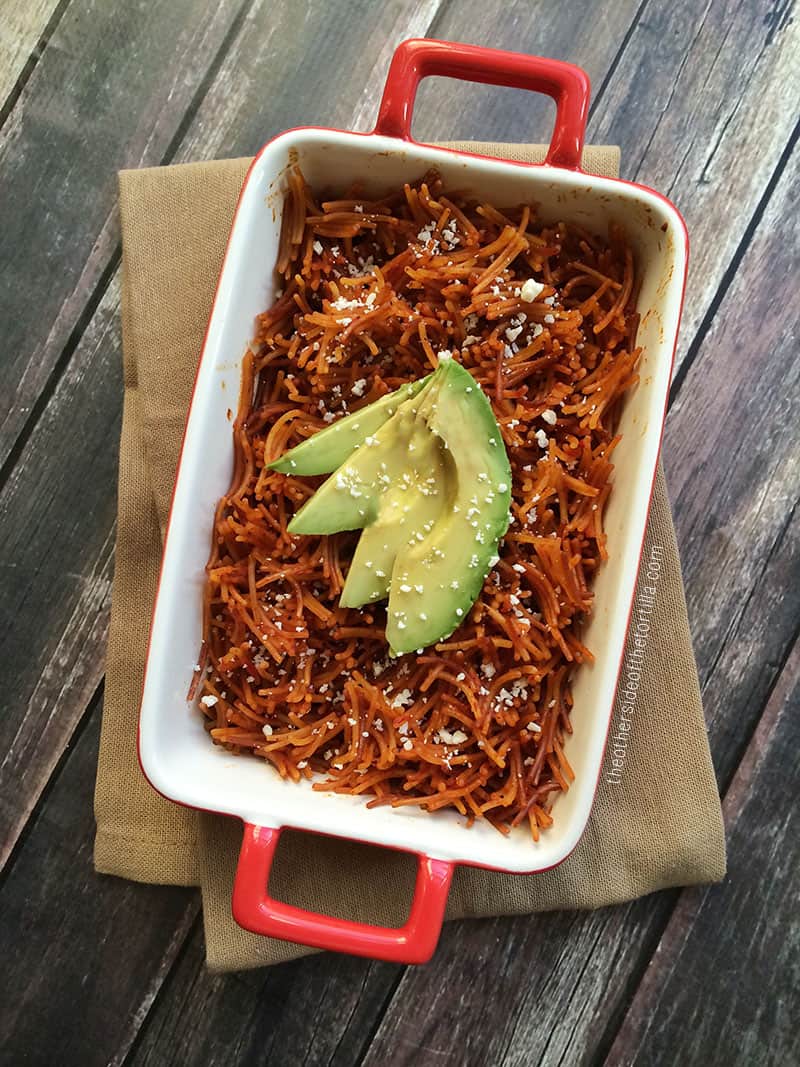 This post is part of a compensated campaign in collaboration with Barilla and Latina Bloggers Connect, but the recipe and all opinions here are my own.
Fideo seco is a Mexican pasta dish traditionally made with either chipotle chile alone, or a mix of three chiles: chipotle, guajillo and pasilla. When made with three chiles, the dish is known as fideo seco a los tres chiles. This simple version uses only chipotle chiles in adobo sauce, and requires minimal effort and easy cleanup.
What makes this dish different than any typical pasta dish is that the pasta is first fried, which brings out a somewhat nutty flavor in the pasta, and then is soaked in a tomato-chipotle puree to absorb the flavor. It's cooked by baking in the oven, and when finished, the consistency is moist but not soupy.
Fideo seco can sometimes be a spicy dish, but this recipe is not too spicy; if you prefer yours on the spicy side, you can add one additional chipotle and another tablespoon of adobo sauce. You should still remove seeds and veins from the chile if you decide to add one more, as the seeds and veins are where most of the chile's heat comes from.
I've used Barilla's fideo cut in this recipe, which is a cut familiar to any Mexican or Mexican-American family—it's the same cut used in sopa de fideo, a tomato broth soup with noodles. Barilla's superior quality pasta means your fideo won't stick or clump, and has a flavor that complements this traditional Mexican dish.
The best garnishes for this dish include avocado and crumbled cotija or queso añejo. You can also add cilantro for a touch of color. Some people also like to garnish with crema mexicana or julienned chipotle chiles.
RELATED RECIPE: Tomato chipotle soup with star pasta
Fideo seco is a Mexican pasta dish made with chipotle chile and a tomato base. The sauce soaks into the pasta, giving it a moist but not soupy consistency.
Ingredients
5 large Roma tomatoes
3 medium garlic cloves
1 ½ cup water
3 chipotle peppers in adobo sauce, seeds and veins removed
2 tablespoons adobo sauce
1 tablespoon powdered chicken bouillon
½ teaspoon kosher salt
1 pound Barilla fideo cut spaghetti (1 box)
3 tablespoons canola oil
For garnish: avocado slices and grated or crumbled cotija cheese
Instructions
Remove stems from tomatoes and cut in half lengthwise. Place cut-side down in a shallow roasting pan lined with aluminum foil for easy cleanup. Under the broiler, roast the tomatoes and garlic until the tomatoes start to get dark spots.
Remove from broiler and set aside to cool for a few minutes.
Add water, chipotle chiles, adobo sauce, powdered chicken bouillon, kosher salt, tomatoes and garlic to a blender and blend on high until completely smooth. Set aside.
In a deep saute pan or stockpot, heat 3 tablespoons of canola oil over medium heat until hot. Add fideo to the oil to fry it for 6-8 minutes, stirring frequently until some of the noodles start to turn golden brown. When the noodles have turned color, turn off the heat but keep the pot on the burner.
Gently pour the contents of the blender over the pasta and stir to coat all the pasta with the sauce. Allow the pasta to absorb the sauce for 15 minutes.
Preheat the oven to 350 degrees F.
Spoon pasta into a casserole dish or individual serving size ramekins, cover with aluminum foil and bake at 350 degrees F for 15 minutes.
Serve portions and garnish with avocado slices and a sprinkle of crumbled cotija cheese.
Notes
Prep time includes 15 minutes of inactive prep while the sauce soaks into the pasta before baking.
https://theothersideofthetortilla.com/2014/10/fideo-seco-recipe/
©2009-2015 theothersideofthetortilla.com
For more recipes and tips, visit barilla.com or in Spanish at pastaatuestilo.com.
22