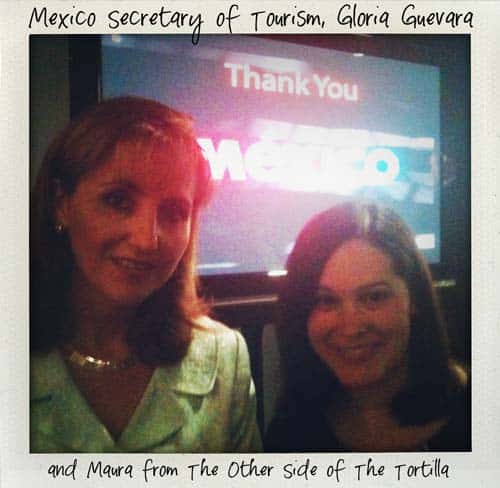 Last month, I was lucky enough to be invited to a beautiful event by the Mexico Tourism Board in Chicago and there was a very special guest on hand: Mexico's Secretary of Tourism, Gloria Guevara Manzo.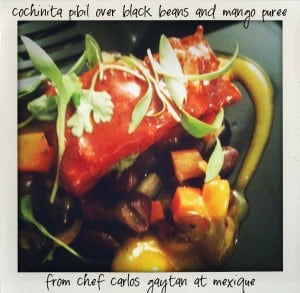 Not only did Secretary Guevara talk about new tourism initiatives, but she also introduced a sneak preview to all the guests of the new documentary, "Mexico: The Royal Tour," what looks to be an absolutely thrilling journey around Mexico with Peter Greenberg and one of the country's most distinguished tour guides: President Felipe Calderón.
The trailer brought tears to my eyes when I recognized a few of the places I have been and made my heart ache for Mexico. Thankfully, my next trip is only one month away. The rest of the night was filled with traditional music, excellent food from Mexique and a gallery viewing of simply stunning photographs by world-renowned Spanish photojournalist, César Russ (who, coincidentally, has been living in Chicago since 2006). The photos are incredible and so vibrant, you feel as if you're really there. The detail is just amazing—have a look for yourself: I took video as I walked through the gallery and captured some of my favorite photos up-close.
[youtube]http://www.youtube.com/watch?v=qNoRGE8nC0s[/youtube]
After the video presentation, I had the chance to speak with Secretary Guevara for a few minutes about tourism efforts, how online efforts are helping boost tourism and the Mexico Today program. As the only Mexico Today ambassador located in the Midwest, I was honored to represent my colleagues far and wide and was very proud when Secretary Guevara was able to mention some specific efforts within the program and that she was very pleased with the selection of ambassadors.
You can see the official trailer for the documentary below, and you can LIKE "Mexico: The Royal Tour" documentary on Facebook for more sneak peeks including video and photos.
The documentary will air in English on PBS on September 22 and on V-Me with Spanish-language subtitles beginning September 23. Check your local listings for dates and times to confirm.
A big thanks to the Mexico Tourism Board office in Chicago and Midwest Director Rodrigo Esponda for inviting me to share in this very special event.
OFFICIAL TRAILER:
[youtube]http://www.youtube.com/watch?v=B-nhlnrT384[/youtube]
What are you most excited to see in the documentary or where do you hope they'll visit?
Marca País – Imagen de México, is a joint public and private sector initiative designed to help promote Mexico as a global business partner and an unrivaled tourist destination. This program is designed to shine a light on the Mexico that its people experience every day. Disclosure:  I am being compensated for my work in creating content for the México Today program. All stories, opinions and passion for all things México shared here are completely my own.
0