Avocado toast may be all the rage, but you haven't really lived until you've had chorizo and avocado toast topped with a poached egg.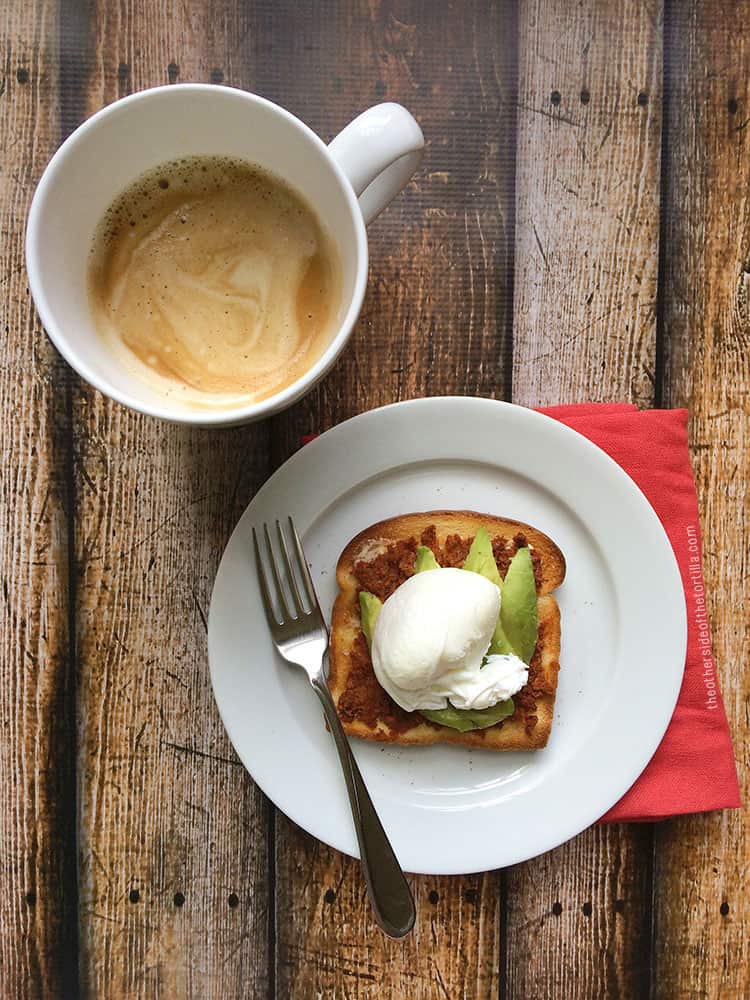 This recipe has been one of my long-lasting breakfast obsessions. After all, who doesn't love avocado toast? But I can't just make plain avocado toast, guys. No. I had to put some chorizo on it, too. Because… why not? Once you make this creation at home, you'll be asking yourself why you didn't think of this sooner. And with a poached egg perched atop, a runny yolk sprinkled with some fancy flaked sea salt just puts this dish into a category above and beyond your usual breakfast.
RELATED RECIPE: Trenza de huevo con chorizo
I often like to make this recipe on weekend mornings when I can spend time savoring it at my dining room table while also sipping on my coffee and reading the newspaper or a good book. This version of avocado toast makes me forget that I'm eating at home and not out to a fancy breakfast or brunch.
If you really want a hearty, protein-packed meal, you can poach two eggs at once to top your chorizo and avocado toast, or you could even turn it into an egg sandwich. (More bread to sop up that perfectly runny yolk!)
The secret to the perfect poached egg is that you need to keep the water whirlpool going while you pour the egg into the middle of the whirlpool. If you fail to get it in the middle of the whirlpool, the egg white will feather and it won't look very appetizing — and although it may not look pretty, it will be perfectly edible, so if you mess up, it won't ruin the dish. It may take you a couple tries to get the perfectly poached egg, but don't get discouraged. I promise it's a skill worth practicing!
RELATED RECIPE: How to make homemade chorizo 
Chorizo and Avocado Toast Topped with a Poached Egg
If you love avocado toast, you'll go crazy for this fancier version with Mexican chorizo, avocado slices and topped with a poached egg!
Ingredients
1 piece of bread, toasted
2 teaspoons butter, softened
1-2 tablespoons chorizo, cooked (but grease not drained completely)
4-5 slices of avocado
2 teaspoons white vinegar
1/4 teaspoon Kosher salt
2 cups water (for poaching the egg)
1 large egg
Optional: Flaked sea salt, such as Maldon, for garnish; finely chopped cilantro OR cebollín (chives)
Instructions
Cook the chorizo in a frying pan. Drain off about half the grease on a paper towel and set chorizo aside.
In a small saucepan, bring 2 cups of water and 2 teaspoons of white vinegar to a simmer over medium heat.
Crack the egg into a small prep dish and discard the shell. Use a spoon to stir the water in a circular motion. Add the salt and let it dissolve. Keep stirring and then pour the egg into the middle of the whirlpool in the water. Cover the pan, turn off the heat, and do not disturb for 5 minutes. (Seriously, no peeking or moving the pan!)
While the egg is poaching, toast the bread. Spread the butter on the toast and then the chorizo over the butter. Slice an avocado thinly and add slices atop the chorizo.
When the egg is done poaching, remove from the water with a slotted spoon; hold it above the water and allow it to drip a little before putting the egg on top of the avocado slices.
Serve immediately.
https://theothersideofthetortilla.com/2015/05/chorizo-avocado-toast-poached-egg/
©2009-2015 theothersideofthetortilla.com
RELATED RECIPE: Huevos al albañil
1