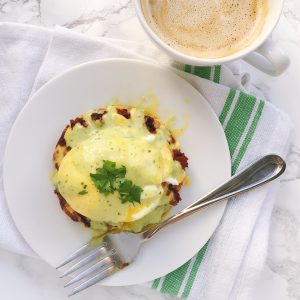 Mexican Eggs Benedict
Yield 4 servings
The quintessential brunch dish gets a Mexican makeover with chorizo, ancho chile hollandaise and Herdez guacamole salsa.
Ingredients
8 ounces Mexican chorizo
2 English muffins, toasted and lightly buttered
4 eggs, poached
1/2 tablespoon distilled white vinegar (for poaching the eggs)
1/4 cup Herdez Guacamole Salsa
Cilantro for garnishing
ANCHO HOLLANDAISE
2 large egg yolks
1/2 tablespoon fresh lemon juice
1/4 teaspoon kosher salt
1/8 teaspoon ground ancho chile powder
1/4 cup butter, melted
Instructions
In a frying pan, cook 8 ounces of Mexican chorizo until completely cooked through but not burned. Set aside. 
Fill a saucepan with water halfway to the top and bring to a simmer.
While the water is heating on the stove, separate 2 egg yolks and put them in the blender with 1/2 tablespoon fresh lemon juice and 1/4 teaspoon kosher salt. 
Microwave 1/4 cup butter until completely melted. Turn the blender on to mix the egg yolks, lemon juice, salt and 1/8 teaspoon ground ancho chile powder at a medium speed. Slowly pour the butter in through the hole in the top of the blender lid with the blender still going. It should take about a minute for it to be well-blended.
Crack open one egg at a time into a small prep dish (you don't want to crack the egg directly into the water). 
Toast your English muffins, lightly butter them, then spread 1/4 of the chorizo (about 2 ounces) on each muffin half. Set aside.
By now, your saucepan should be simmering; add 1/2 tablespoon of distilled white vinegar and stir with a spoon to incorporate. Continue stirring the simmering water in a circular motion to create a whirlpool. Have your prep dish in one hand and continue stirring with the other. When you have a good whirlpool going, remove the spoon, pour the egg from the prep dish directly into the vortex of the whirlpool as close to the water as you can get (this prevents the egg whites from feathering), and cover the pot with a lid. Turn the stove off and let the egg poach for about 2-3 minutes, then remove with a slotted spoon and plate over the chorizo. Repeat with the other egg.
Pour the hollandaise sauce over the top of the poached eggs, followed by the Herdez Guacamole Salsa, to your liking. Garnish with cilantro and serve. 
Courses Breakfast
Cuisine Mexican
Recipe by The Other Side of the Tortilla at https://theothersideofthetortilla.com/2017/05/mexican-eggs-benedict/