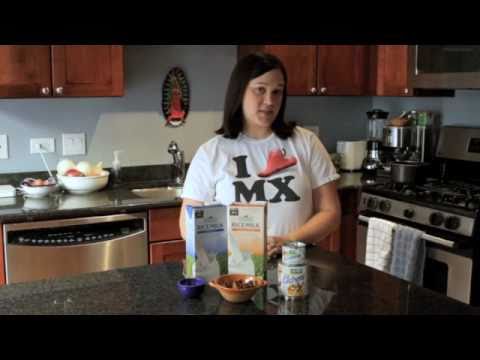 I can't tell you how many times I've been asked for an horchata recipe since I began blogging. But each time I start explaining how to make it from scratch, I can see people start to lose interest around the time I mention that making horchata from scratch involves soaking rice and cinnamon sticks overnight and then grinding it and straining it. When I make it from scratch I sometimes also blanche almonds and soak them with the rice for an added depth of flavor. But the average person asking for a recipe always seems to get a frown on their face when they realize making it from scratch takes a little extra time and effort.
It was because of this dilemma of nobody wanting to take the time to soak and grind the rice that I began experimenting in the test kitchen to try to make an acceptable quick recipe substitute for those times when we just need a quick fix of a tall, cool glass of horchata. This is the simplest recipe I came up with that passed the taste test with family and friends. It beats any powdered or pre-made liquid mix I've tried from a variety of grocery stores. The store-bought mixes always taste either too sweet or too fake to me. I hope you enjoy this version if you're looking for a quick but yummy horchata recipe!
RECETA:
Horchata
32 ounces of rice milk
3 cinnamon sticks
3.5-4 ounces sweetened condensed milk
2 cups boiling water
1 pinch of ground cinnamon to garnish each glass
In a saucepan, add the rice milk and cinnamon sticks and heat over a medium-high flame until the liquid comes to a boil. The liquid will get frothy and start to foam up the side of the saucepan; just use a kitchen whisk to stir and deflate the foam. Reduce to a simmer and whisk in the sweetened condensed milk.
Allow the mixture to simmer for about an hour, stirring occasionally. The liquid will reduce slightly. Remove from heat and add 2 cups of boiling water. Stir well to incorporate. Transfer to a pitcher and allow to come to room temperature. When it reaches room temperature, store it in the refrigerator to chill before serving. Garnish each glass with a few ice cubes and a pinch of ground cinnamon.
Note: if you like your horchata a little sweeter, you can increase the amount of sweetened condensed milk one ounce at a time until desired sweetness is reached.
Yields about 4-6 servings.
Do you make your own horchata at home?