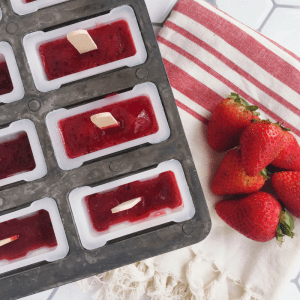 Strawberry hibiscus popsicles
Yield 10 2.5-ounce pops
If you love strawberries, but you're also trying to cut back on added sugar, you're going to love this recipe for strawberry hibiscus popsicles.
Ingredients
2 cups strawberries, hulled
1 cup water
½ cup dried hibiscus flowers
3 tablespoons brown rice syrup
½ cup water or coconut water
Instructions
Clean and hull 2 cups of fresh strawberries. Dry them off and put them in a plastic bag or on a small tray in the freezer for an hour.
In a small saucepan, bring 1 cup of water and ½ cup dried hibiscus flowers to a boil. Turn heat down slightly and gently boil for 4-5 minutes, then remove from heat and allow to come to room temperature.
Once the juice is room temperature, pour through a fine mesh sieve into a measuring cup. Press the flowers to get all the juice out. You should have about ½ cup concentrated juice. Discard the flowers. Set aside until your strawberries come out of the freezer.
Add strawberries, hibiscus juice, 3 tablespoons brown rice syrup and ½ cup water or coconut water to a blender and blend on high until you have a smooth consistency.
Pour into popsicle molds, filling them only ¾ of the way to the top. Freeze for at least 8 hours, or until fully frozen.
Notes
To loosen the popsicles from the molds, run the bottom of the molds under cool or lukewarm water for a few minutes. They should slide right out.
Courses Dessert
Cuisine Mexican
Recipe by The Other Side of the Tortilla at https://theothersideofthetortilla.com/2017/10/strawberry-hibiscus-popsicles/