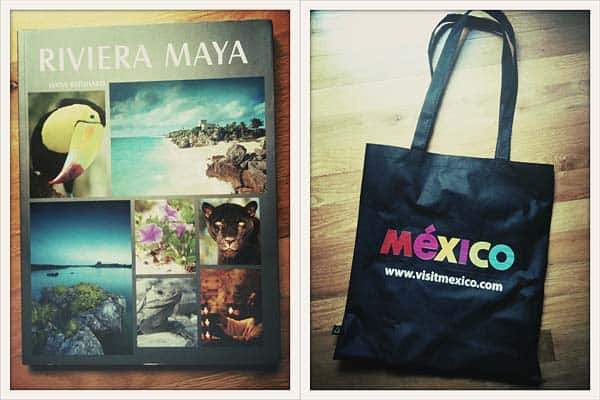 One of the best parts of attending tourism events with the Mexico Tourism Board is the goody bag they send you home with to learn more about new places in Mexico! Whenever I get a goody bag filled with new reading materials about destinations I already love or am planning to visit, I always feel like the kid who got the most candy out of the piñata.
That's why I'm sharing the loot with you!
If you enjoyed yesterday's post with the video footage from the César Russ photo gallery exhibit, then you'll love today's giveaway (items pictured here above). The beautiful soft cover book about the Riviera Maya has 250 glossy pages of stunning images from around the area with photo captions in four languages (English, Spanish, German and French) to describe the subject and the history of some of Mexico's treasures; nature, native animals, people, places, and scenery that will all have your heart aching to visit. Also included in the giveaway is a black fabric tote bag with the Visit Mexico logo.
For a peek into what you'll find inside the book, here are a few photos of some of my favorite pages. Just click on the photo to make it bigger.
We're giving away one Riviera Maya coffee table book with photos by Hans Reinhard and a recyclable Mexico tote bag to one lucky winner, courtesy of the Mexico Tourism Board's Chicago office. To enter just leave a comment telling us what you love about the Riviera Maya, or if you have never been before, what most intrigues you about taking a trip there.
That's all you have to do to enter this giveaway. If you want to up your chances at winning, then this is how you can get additional entries (only after you've completed the step above):
**Please leave a separate comment for each so we can count them and avoid mistakes.
1. Subscribe to receive The Other Side of The Tortilla in your email inbox and leave us an extra comment letting us know you did so or that you're already a subscriber. Make sure to leave the comment using the same email you subscribed with.
2. Follow Maura on Twitter @MauraHernandez and tweet about this giveaway including a link to the post. Copy the link to the tweet in an additional comment on the giveaway's post.
3. Like The Other Side of The Tortilla on Facebook and join a growing community of Mexican cuisine, culture and travel destination lovers. There, you'll get sneak peeks into our travels and what's cooking in the test kitchen in advance of it being posted on the blog. Let us know the name of the profile you've liked the page from in your comment below.
This giveaway ends Tuesday, September 6 at midnight CST and is open to everyone with a U.S. mailing address over 18 years of age. No purchase necessary; void where prohibited. Winner will be chosen by tallying up all the valid entries and then using random.org to generate a random number. Winner will be notified within 72 hours and asked to provide a valid mailing address.
Marca País – Imagen de México, is a joint public and private sector initiative designed to help promote Mexico as a global business partner and an unrivaled tourist destination. This program is designed to shine a light on the Mexico that its people experience every day. Disclosure:  I am being compensated for my work in creating content for the México Today program. All stories, opinions and passion for all things México shared here are completely my own.
1