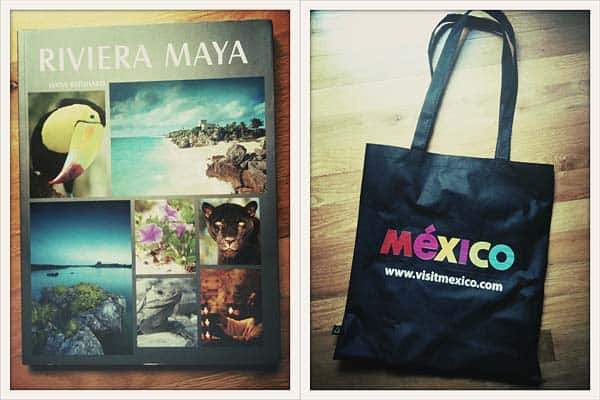 One of the best parts of attending tourism events with the Mexico Tourism Board is the goody bag they send you home with to learn more about new places in Mexico! Whenever I get a goody bag filled with new reading materials about destinations I already love or am planning to visit, I always feel like the kid who got the most candy out of the piñata.
That's why I'm sharing the loot with you!
If you enjoyed yesterday's post with the video footage from the César Russ photo gallery exhibit, then you'll love today's giveaway (items pictured here above). The beautiful soft cover book about the Riviera Maya has 250 glossy pages of stunning images from around the area with photo captions in four languages (English, Spanish, German and French) to describe the subject and the history of some of Mexico's treasures; nature, native animals, people, places, and scenery that will all have your heart aching to visit. Also included in the giveaway is a black fabric tote bag with the Visit Mexico logo.
…