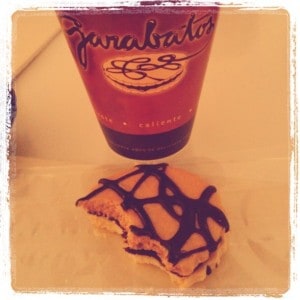 We've been talking a lot about guilty pleasures since last week and there have been many great answers about your favorite Mexican guilty pleasures in the comments, on our Facebook fan page and sent to me on Twitter.
But one that nobody has mentioned and I feel is extremely worthy of the title is a little cookie called the garabato. So please forgive me, but we're about to get a little wordy this Wordless Wednesday because these galletas are worth knowing more about!
They're made with two shortbread cookies, a smooth dark chocolate fudge center and drizzled with dark chocolate. Paired with a café con leche, it's like pure cookie bliss. And they come in two sizes, mini and regular. Or, as I like to say: naughty and extra naughty. Why? Because I'm certain these cookies are loaded with butter and sugar, which is why they are such a delicious temptation to begin with. I may actually attempt making them in the Tortilla Test Kitchen later this year – there's only so long I can go with a craving before I must satisfy it, even if it means experimenting in the kitchen!
The establishment that sells these amazing little treats is, appropriately, called Garabatos, and besides having an array of artisan pastries (I'm also a big fan of the dedo de novia, a tube-shaped sort of baklava) they also have a cafe menu with typical botanas, sandwiches, salads and the like.
On our last trip to Mexico, José was craving garabatos before he even arrived. Since I got there a few days in advance, I picked up a small box with a dozen mini garabatos just for him. I'm not going to incriminate myself here and tell you how many trips we made to Garabatos over the few weeks we were visiting, but let's just say we had our fair share. On the day we headed back home to Chicago, I found a Garabatos in the airport and I had to have one last fix. As you can see from the photo, I couldn't even wait to photograph my treat before taking the first (er, and second) bite.
1