This recipe for homemade churros will have you excited that you don't have to go all the way to Mexico anymore to get an authentic churro!
In the U.S., I've seen several different versions of churros. Make no mistake: none of them is very authentic. Some make my stomach churn at the thought (think theme park churros filled with chocolate or fruit-flavored goo), while others are passable for some quick cinnamon-sugar satisfaction during a desperate moment. It's important to fry the pastry dough just right because if they're over-fried, they're just no good.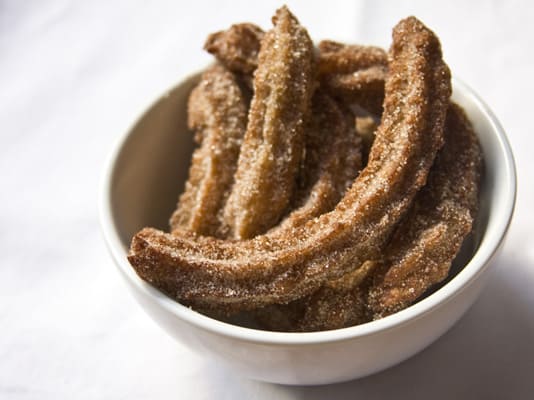 When José and I were still dating, I made my first trip to the legendary Churrería El Moro in Mexico City. Founded in 1935, this cultural culinary gem is more than just a 75-year-old churro depot. It's an incredible experience. The storefront has a big glass window so you can watch the churros being made. That alone makes it worth the trip. In fact, even famous Chicago-based chef Rick Bayless is rumored to have stood outside El Moro for hours upon hours when planning the concept for his street food-inspired quick eatery, Xoco.
The waitresses at El Moro wear mustard-yellow diner uniforms with white trim and aprons. The blue, white and yellow patterned tiles, stained glass and yellow stucco walls inside are elements of any dream I have had dealing with churros ever since. (Yes, I dream about churros.) It's all a part of the experience. With four types of hot chocolate to choose from and for the equivalent of a few dollars, you can't go wrong when ordering churros y chocolate, especially in the chilly winter months. …