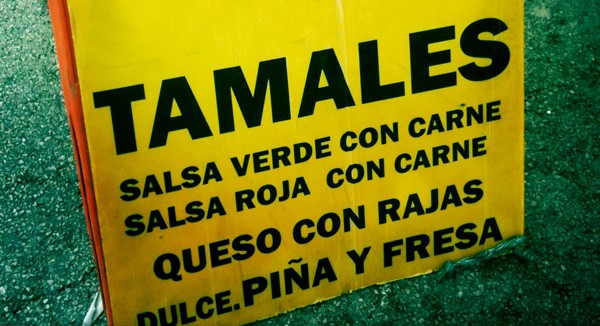 I adore tamales; they remind me of the holidays and various special occasions. When I smell them, I get a warm, fuzzy feeling inside that is hard to explain. No other food gives me the same exact feeling, actually.
There were tamales at my wedding shower in Mexico (called a despedida). There have always been tamales available for birthdays and Christmas and Día de La Candelaria. In fact, on Día de Los Reyes, I've had the luck to get the baby Jesus figurine in my piece of Rosca de Reyes several times in the past. As tradition goes, if you get the figurine, you're responsible for bringing tamales for everyone on Día de La Candelaria. When José's abuela passed away, everyone came back to the house after the prayer service to have tamales, like she would have wanted us to. They're a staple and a symbol in Mexican cuisine.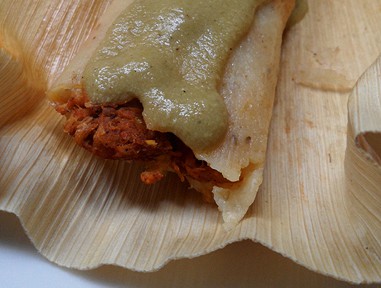 So, it might surprise you to find out that I've never before hosted my own tamalada—a tamal-making party. Yes, it's true. I've never hosted one, but I really want to in the coming year! My favorite savory tamales are usually tamales de pollo con salsa verde and when it comes to the sweet variety, un tamal de chocolate makes my mouth water and my heart skip a beat. I've made tamales on my own at home but never had a party and invited friends and family to help out and enjoy them with me afterward.
One reason a lot of people don't make their own tamales at home is because it's a bit labor intensive. There are several steps to successfully making them, and it's time-consuming. To make it worthwhile, a tamalada is the perfect solution because everyone gathers together at one place and forms an assembly-line style workforce to get everything finished in less time. Then you can steam them in your tamalera. When they're done, it's party time! There's nothing quite like a freshly-steamed tamal, whether it's savory or sweet.
Here are the five basic steps for a successful tamalada, according to the advice I've received and what I've observed, and that I plan to follow when I host mine:
Ideally, as a hostess, you'll have the masa ready in advance. I'm not suggesting you grind your corn from scratch and all that (unless you want to). But for a modern tamalada, it's perfectly acceptable to buy pre-made masa at a tortillería or grocery store, or use Maseca instant masa without feeling guilty.
Every tamal needs a little grasa in the masa! If your tamal is lacking moisture, it might because you didn't use any manteca. You don't have to use a lot, but it helps with the consistency and flavor. The best tamales are the ones that have light and fluffy masa that isn't dry.
Depending on which region your tamales come from, you'll use either cornhusks or banana leaves to wrap them. Either way, they need to be pliable. Cornhusks need to be soaked in water well in advance so they won't rip. Banana leaves can be heated and soaked, too.
You're going to need a filling (or a few different fillings, depending on how many tamales you plan to made). You can use shredded meats stewed in salsa, vegetables such as rajas or even sweet fillings using fruit (my favorite is strawberry). Make sure your filling isn't too wet when it comes time to spread it over the masa, or you'll end up with weird, soggy tamales.
Learn how to wrap that tamal up! It's really easy to learn how to properly fold the cornhusk. You can even find tons of advice on YouTube with how-to videos on the subject. I like to also use a small strip of cornhusk to tie a little bow around the middle to keep the flap closed for steaming. I find that closing it up completely gets the tamal uniformly steamed with no dry spots near the top.
Check out these recipes from Maseca for all kinds of different tamales.
Have you hosted a tamalada? Do you have any tips for me?
This is a sponsored post through a campaign with Maseca and Latina Bloggers Connect. Though I am being compensated for participating, all opinions, recipes and stories are my own.