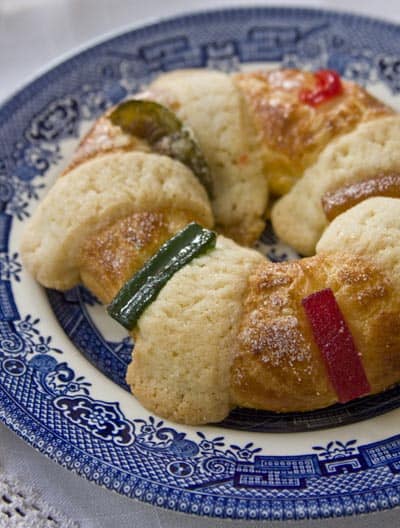 Feliz Día de Los Reyes and Happy Three Kings Day; today is the holiday known as Epiphany, 12 days after Christmas and the day that the three wise men arrived in Bethlehem with gifts of gold, frankincense and myrrh for the baby Jesus.
In Mexico, one of the most common ways to celebrate this holiday is with a rosca de reyes, a sweet yeast-bread adorned with dried or candied fruits that have been soaked in rum or brandy and topped with a buttery and sugary paste akin to the topping on a concha roll.
Baked inside the cake is a tiny baby Jesus figurine, and whoever cuts the piece of cake with the baby Jesus inside is responsible for bringing tamales to the family's Día de la Candelaria (Candlemas) celebration on February 2. The figurine symbolizes the hiding of the baby Jesus from King Herod's men. Traditionally, the whole family gathers around the table to cut the cake while sipping on chocolate caliente, each person taking their turn until everyone gets a piece and until the baby Jesus figurine is found.
My favorite Rosca de Reyes (pictured here) comes from a bakery chain called El Globo, which I first got to know in Mexico City. Their traditional rosca is also made in an individual size and this year on my last day in Mexico, my suegra bought me one, wrapped it up and stuck it in my carry-on bag so I'd have a rosca to cut on Día de Los Reyes….