Brazilian cheese bread is a staple at most Brazilian restaurants—especially a Brazilian steakhouse. These addictive, light and fluffy cheese rolls are called pão de queijo in Portuguese, which simply means cheese bread. They're a popular breakfast item (similar to how Mexicans love pan dulce) or a snack.
I loved these Brazilian cheese rolls so much after having them for the first time about a decade ago that I went on a quest to try to reproduce them in my own kitchen almost immediately. I've been making them for years now, and what better time to share this version with you when we're about to embark upon a summer filled with soccer matches in Brazil!
This traditional Brazilian recipe is most commonly made with Minas cheese or parmesan cheese, but I've given my recipe a bit of a Mexican spin by substituting cotija cheese.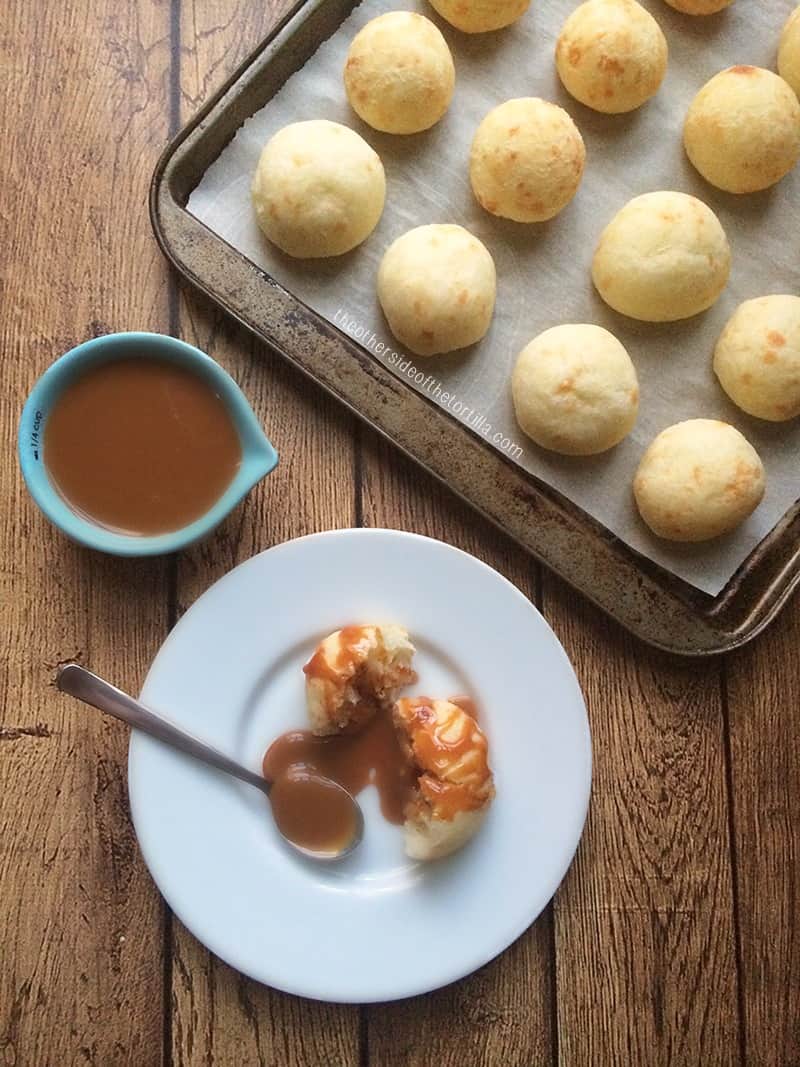 The origin of this recipe is in the Brazilian state of Minas Gerais—hence being typically made with Minas cheese, an unpasteurized cow's milk cheese. Minas Gerais is located on the East side of Brazil, slightly North of Sao Paolo and Rio de Janeiro. The closest Mexican cheese, in terms of texture and taste in this recipe, is cotija. Like Minas cheese, it can be fresh or ripened.
The light and airy, yet slightly chewy bread gets its unique texture from tapioca flour. Tapioca or cassava flour is fairly easy to find in most stores that carry organic or ethnic groceries. Most Latin and Asian markets will also carry tapioca flour, and Whole Foods and Trader Joe's are two national grocery chains that typically carry it as well. The best part is that this kind of flour is also gluten-free!
Brazilians commonly serve these rolls with savory or sweet spreads. Dulce de leche, fruit jams or chocolate hazelnut spread are a few common sweet spreads that I love to put on these cheese rolls—that is, if I can resist temptation to just eat them plain as they come out of the oven. I love to drizzle dulce de leche over them for a sweet afternoon snack or party treat.
RELATED RECIPE: Slow-cooker dulce de leche
This Brazilian cheese bread recipe is gluten-free.
This is a sponsored post on behalf of Cacique and Latina Bloggers Connect. All opinions, culinary research and the recipe are my own.
Gluten-free Brazilian cheese rolls made with Mexican cotija cheese
Brazilian cheese bread, known in Portuguese as pão de queijo, gets a makeover with Mexican cotija cheese. This recipe is gluten-free.
Ingredients
1 cup water
1 cup 2% milk
1/2 cup canola oil
1.5 teaspoons kosher salt
1 pound tapioca flour
2 large eggs
7.5 ounces finely grated fresh Cacique cotija cheese
Instructions
In a big pot, bring the water, milk, oil and salt to a boil.
Remove the pan from the heat and add the tapioca flour. Mix well with a wooden spoon and let it cool down for 5-10 minutes so it's not too hot to touch.
Add the eggs and knead well. Dough will be extremely sticky. You can use rubber or latex gloves to keep it from sticking to your hands while kneading.
Add the grated cheese little by little and keep kneading until the dough is smooth.
Scoop 1 tablespoon of mixture at a time and roll into small balls.
Place the rolls on a baking tray lined with parchment paper for baking.
Bake in pre-heated oven at 350 degrees for about 20 minutes or until they start to turn golden on top.
To serve, put the cheese rolls in a basket covered with a cloth to keep warm.
Notes
Cooked rolls will not reheat well. Freeze the formed dough for all rolls that you will not cook immediately in an airtight container. I typically arrange them on a baking sheet, freeze them so they don't get stuck together, then transfer to a zip-top freezer bag. You can heat them directly from freezer to oven; it just takes a few extra minutes to cook. They'll stay fresh for up to 8 weeks in the freezer.
https://theothersideofthetortilla.com/2014/06/brazilian-cheese-bread-recipe/
©2009-2015 theothersideofthetortilla.com
TRY ANOTHER RECIPE MADE WITH CACIQUE CHEESES: Vegetarian queso fundido
13