Since we've been back from Mexico, we've been very busy in the Tortilla Test Kitchen testing new recipes and having fun shooting new videos we'll be sharing soon. But while we were in Mexico, we ate and ate…and ate and, well, you get the picture. I think I may have finally earned the affectionate nickname I'm sometimes called at home – Gordita, or Gordis, for short.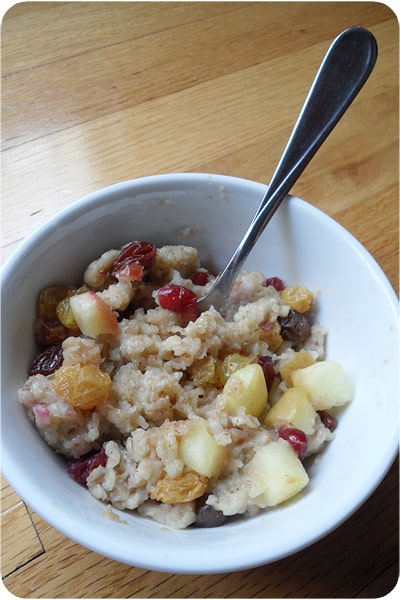 We decided we needed to bring a little order to our daily habits after eating to our hearts' content for nearly a whole month. That's not to say that healthy Mexican food doesn't exist, because it definitely does and you will see more new examples of that on The Tortilla this year. However, it's sometimes harder to make those healthy choices when most of the year I live in Chicago and can't get some of my favorite Mexican foods.
It's a bit like letting a kid loose in a candy store, only instead of a candy store, you're dropping me off in a city full of taquerías that serve my favorite things like chicharrón de queso, tacos al pastor and Sidral Mundet apple-flavored soda. It's hard to say no to all of that, knowing that in a short time, I'll be back in Chicago without access to these things again until my next trip. There's nothing wrong with eating or drinking all of those things if you do it in moderation, but sometimes we need a reminder that moderation is the key in order to stay healthy.
This year, we've decided to bring some good habits back from Mexico, such as eating breakfast daily. We started every day with a good breakfast during our visit and now I crave breakfast as soon as I wake up in the morning. In the past, I've been known to rush out the door in the morning without eating breakfast because I'm crunched for time, but I'm vowing to break that bad habit in 2011.
And for breakfast, there are so many healthy options. One of my suegro's favorites is avena con nueces o fruta y azúcar moreno, or oatmeal with nuts, fruit and a little brown sugar.  I'm a huge fan of oatmeal, but truth be told, I don't like the instant stuff with the artificial flavors. Since I'm usually on the go in the morning during the week, I often have to prepare something the night before to take with me to assure that I get a good, healthy choice.
Last week on a day I didn't get a chance to eat breakfast before I left the house, I thought I'd try out the new McDonald's Fruit and Maple Oatmeal. And you know what? I loved it. You can get it with or without brown sugar, and as much as I love brown sugar, I actually prefer the oatmeal without it because the raisins, cranberries and apples make it plenty sweet for me. At only 260 calories per serving, I'll definitely keep this in mind the next time I need breakfast on the go. And if I'm feeling like treating myself at breakfast, it's nice to know that if I want to add the brown sugar, it's still under 300 calories and enough to jump start my metabolism for the day.
Another healthy habit I'd love to share is a little recipe for té de manzanilla, a common traditional Mexican home remedy for healthy digestion and weight loss. Chamomile is well-known for its calming properties, and though it's not a magic weight-loss drug, it does work by assisting your body in proper digestion to give it that extra little kick it needs. I like to add a small cinnamon stick or a pinch of ground cinnamon to the tea, too, which acts as a mild appetite suppressant. You should be able to find dried Chamomile flowers at any Latin grocer, organic or health food stores such as Whole Foods, or you can purchase them online. They're inexpensive and can generally be found near the spices and herbs in the grocery store.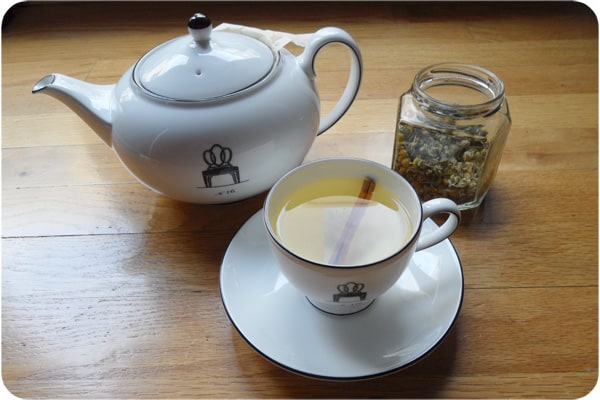 RECETA:
TÉ DE MANZANILLA
Open the tea filter and spoon the dried Chamomile flowers into it. Heat the water with the cinnamon stick and then steep the tea filter bag for five minutes. The water should turn a golden-yellow color. If necessary, dunk or squeeze the tea filter in the water to release more of the florets. Who would've thought it was so easy to make your own? And in the long run, it will cost you less to buy loose dried Chamomile flowers than buying fancy teas where you're paying mostly for the brand name and packaging rather than the natural flavor. I keep my dried Chamomile flowers in a glass jar and store it in a kitchen cabinet.
Yields 1 serving and one refill if you add more hot water.
What do you do to keep healthy and still eat the foods you like? What are your favorite Mexican breakfast foods to get your day started?

Disclosure: This post is part of a blogging program with McDonald's USA and Latina Bloggers Connect. If selected, my post makes me eligible to win $50 and/or a McDonald's Arch Card. All opinions here are my own.
2