This weekend I'll be off galavanting around Cuernavaca to visit friends with my suegra, but so as not to leave you too verde de envidia (especially if I end up eating at El Faisán before returning to Mexico City on Sunday), I thought I'd give you a few events going on in a few of my favorite U.S. cities that will make you feel like you're in Mexico – at least for a few hours.
If you know anything about Mexican music from the 1980s, then you know the Mexico City guacarrock band, Botellita de Jerez. True story: we played the Botellita de Jerez song "Abuelita de Batman" at our wedding in Mexico and it was a hit with all our guests! For a blast from the past, watch the music video of the song below.
[youtube]http://www.youtube.com/watch?v=v4F3ttV9Avs[/youtube]
Now, there's a film, "basada en hechos más o menos reales" as they say about the true story of Botellita de Jerez, and it's called "Naco es Chido." I've been dying to see the film but haven't had the opportunity to view it yet because I was out of town when it screened in Chicago this summer during the Hola México Film Festival. Botellita de Jerez will be in San Diego and Los Angeles this weekend, with a special screening of the film in Los Angeles followed by a performance by the band.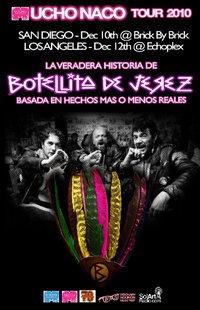 Mucho Music / Track 78 proudly presents:
SAN DIEGO
Friday, December 10th
Botellita de Jerez at Brick by Brick
1130 Buenos Avenue
San Diego, CA 92110
(619) 275 5483
Doors open at 8 p.m.
LOS ANGELES
Sunday, December 12th
Film premiere of "Naco es Chido" followed by a live performance by the films protagonists, legendary Mexican rock band, Botellita de Jerez. The Mucho Wednesdays DJs will also be spinning some tunes for your listening pleasure.
1154 Glendale Blvd.
Los Angeles, CA 90026
(213) 413-8200
attheecho.com
Doors open at 7:00 p.m.; Film screening begins at 8:00 p.m. at The Echoplex in Echo Park.
Watch the movie trailer below or check out the Botellita de Jerez website.
[youtube]http://www.youtube.com/watch?v=NvIDyFg3w-Q[/youtube]
And this weekend in Chicago is the Pilsen Holiday Art Sale and Tianguis Navideño, a great opportunity to support local artists and purchase one-of-a-kind arts and crafts. The market (which is free to attend), will feature more than 30 independent and local artists and crafters. They'll have items for sale such as original paintings, prints, unique clothing, ceramics, jewelry, cards, handmade crafts, toys, free trade Latin American goods and more.
This is a great market to attend if you missed the National Museum of Mexican Art's Mercado Navideño a few weeks ago.
In addition to the arts and crafts for sale, they'll have live music from Jaro Chicanos and singer/songwriters Sandra Antongiorgi and Gonzalo Cordova, formerly of the Grammy-nominated, Chicago-based group, Sones de México. They'll have lots of Mexican food and baked goods for sale, too.
CHICAGO
Saturday, December 11th & Sunday, December 12th
Noon to 7 p.m. at Casa Juan Diego
2020 S. Blue Island Avenue
Chicago, IL 60608
Let me know if you're able to enjoy any of these events! ¡Feliz fin de semana!
1