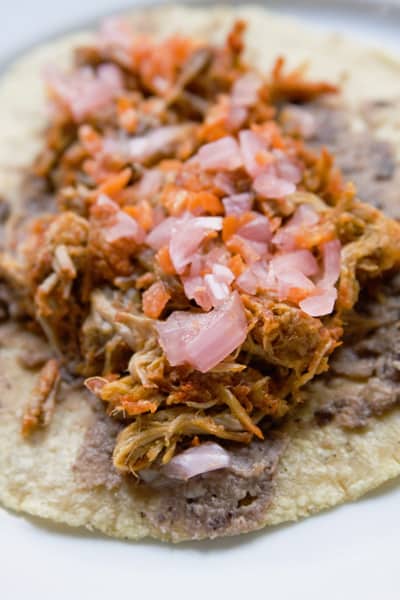 Earlier this summer, I found myself searching every ethnic food aisle and every Mexican grocery store in Chicago for Chata-brand canned Cochinita Pibil. Having had it before, I knew it wasn't as good as the real thing but I was yearning for that delicious achiote-flavored pork. Sadly, it was nowhere to be found. In a moment of desperation, I even searched the internet to see if I could order it from somewhere—finding out I was going to have to pay nearly $10 for a 14-ounce can, plus shipping.
All I could think about was the last time I'd eaten cochinita pibil in Mexico. After a big Christmas celebration with our extended family in Mexico City, we took a trip to Cuernavaca to ring in the new year with my husband's parents and sister. We spent our vacation playing Mexico City Monopoly (with properties like Xochimilco and Chapultepec instead of Park Place and Broadway) and endless hours of domino. Laughter and shouts of "tramposo!" could be heard any time it was suspected that José was cheating…which was often, because he always likes to win.
On our way back to Mexico City, we stopped at a Yucatecan restaurant called El Faisán, where my suegros often visit after spending a weekend with friends in Cuernavaca. It was the first time both José and I had been there.
I know if El Faisán wasn't as authentic as anything you'd eat in Mérida, my family wouldn't eat there. They suggested I try the queso relleno which had a picadillo-style mixture incorporated into the cheese; it's a favorite of one of our tias. My cuñada ordered sopa de lima and shared it with me. But what pleased my palate the most was an order of three little tacos de cochinita pibil. In fact, we ended up asking for three orders, and there was a mad scramble to get more than one little taco each. Paired with a tall, ice-cold glass of horchata to drink (another one of my favorite things), I was in little piggy heaven.
José was skeptical when I ambitiously said I was going to make cochinita. "In a regular oven?" he said, "it's gonna be yucky." In the Mayan language, "pib" means an underground pit for cooking, and that's the traditional way to make cochinita pibil. Obviously that would be difficult to accomplish living on the sixth floor of a condo building in downtown Chicago, where we have no backyard. But when all was said and done and he tasted his first little taco, he gave me his standard stamp of approval—two thumbs up—and his blessing to make it again.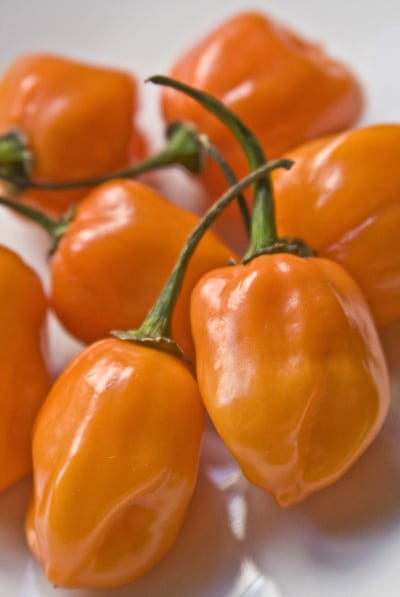 RECETA:
SALSA DE HABANERO Y CEBOLLA
5 habanero peppers, roasted and finely chopped
Juice of  ½ an orange
Juice of 2 limes
1 medium red onion, finely chopped
2 tsp white vinegar
Roast habaneros in a skillet on medium heat until they start to get a few dark spots. Cut top off the pepper and discard stem. Finely dice the habaneros.
Mix the diced habaneros with the chopped onion in a bowl (or directly in the container you intend to store the salsa in, preferably in a glass jar). Pour juices over the habaneros and onions and then add the vinegar. Toss lightly to moisten and refrigerate for at least 4 hours before serving. Keeps refrigerated for about 5 days.
COCHINITA PIBIL
3 lbs pork shoulder, cut into large stew-sized chunks
2 large hojas de platano (banana leaves; if you can't find them fresh, you can usually find them in the freezer section with other ethnic foods. My grocery store carries Goya brand frozen banana leaves)
A roasting pan
Aluminum foil, preferably heavy duty
Marinade:
100 grams achiote paste (one box, also called annato seed paste)
1 ½ cups fresh squeezed orange juice
2 cups fresh squeezed lime juice
4 cloves of garlic, crushed
A big pinch of salt
A little freshly ground pepper if desired

Cut achiote paste (comes in a block) into small chunks. Put into food processor with orange and lime juices to break up the paste and fully incorporate into the juice. Add the garlic, salt & pepper to the juice.
Pour into a gallon-sized Ziploc bag and add the chunks of pork. Remove air and seal the bag. Place the sealed bag in a large bowl and refrigerate overnight (about 12 hours).
In the morning, remove the meat from the juice and reserve the juice. You can put the meat and the juice back into the refrigerator until you're ready to start cooking.
To prepare the banana leaves, turn your stove burners on low heat and place the leaves over the flames. You need to heat the leaves enough so they are pliable, but you don't want them to cook and turn brown. The leaves will turn a brighter green when they're heated through.
Heat the oven to 325 degrees.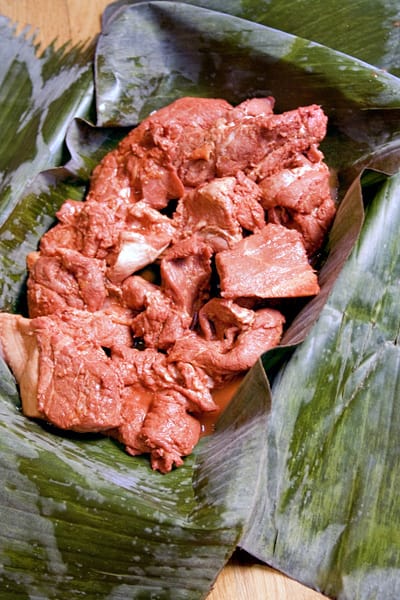 In a roasting pan, place the banana leaves one over the other like a cross. Transfer the meat directly into the pan on top of the banana leaves. Pour about half of the reserved juice over the meat—the juice will help steam the meat so it becomes very tender. Gently fold the banana leaves over the meat, being careful not to rip them but so that the meat is completely enclosed within the banana leaves. Cover the roasting pan tightly with two pieces of foil. It's important that steam won't escape, so make sure the foil is really secure.
Place on the middle rack of the oven, once it reaches 325 degrees. Cook for about 2 ½ hours, or until meat is tender enough to shred gently with a fork.
Shred all the meat.
The meat can be served as a main dish itself, with side dishes such as fried plantains, black beans or rice, and as tacos or on panuchos (smaller, fried tortillas, with refried black beans in the middle). If you're going to make them as tacos, spread refried black beans on the tortilla and then place the meat on top of the beans. Garnish with salsa de habanero y cebolla.
Yields 4 servings (3 tacos each).
5