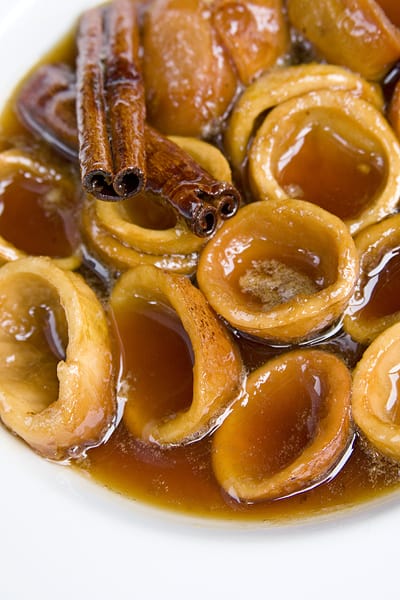 Guayabas en sancocho, also known as guayabas en almíbar, is a delicious dessert of guavas stewed in a cinnamon and piloncillo syrup.
I love the smell of ripe Mexican guavas. Their creamy white flesh and tropical fragrance are simply intoxicating. They remind me of this one particular little stall that sells fruits at the Mercado Coyoacán where my mother-in-law likes to shop. Whenever I visit Mexico City, I'm always eager to tag along with my suegra when she needs to grab something from the mercado because I love walking among the vendor stalls discovering new things.
José also likes the smell of guayabas–but for a different reason. You see, as a big brother, José has always dabbled in a serious form of sibling rivalry. My cuñada, on the other hand, can't stand the smell or taste of guayabas. The smell actually makes her wretch. A few years ago when we were visiting around Christmastime, we bought a big bag of guayabas for making ponche navideño. I'm sure you can guess what happened next.
RELATED RECIPE: Ponche navideño…