I've been buying thinly sliced rib eye and grilling it to serve as tacos for years, but the truth is that it can get kind of boring. I recently came up with a flavorful and easy fix that is literally only one ingredient but makes a world of difference: ponzu sauce. Yes, you read that correctly, I said ponzu sauce! I knew I had to share this recipe when my husband and chief taste-tester raved about this dish, even days after I served it.
No, ponzu sauce isn't a Mexican ingredient, but it bears some striking similarities to the popular seasoning sauce known as Maggi that is widely consumed in Mexico. You may remember reading about Maggi here before in my cebollitas recipe, which is basically just grilled spring onions, lime juice and Maggi—a succulent side dish that also pairs well with these tacos.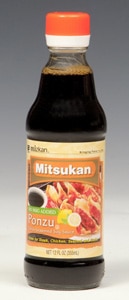 What's great about ponzu sauce is that it's similar to Maggi in taste, already has a hint of citrus so adding lime juice isn't necessary (but you still can, if you want), and ponzu is much lower in sodium per tablespoon than Maggi.
If it's any indication how good it is, I've whipped this recipe up for dinner three times in the last two weeks and gotten no complaints about repeating the same dish. I've served it each time with a different salsa to make it just a little different. With grilling season right around the corner, this dish is definitely going to be my secret weapon for summer barbecues. Let me know how you like it!
RECETA | RECIPE
TACOS DE RIB EYE
1 lb. thinly sliced rib eye (about 1/4 inch thick)
1/2 cup Mitsukan ponzu sauce for the meat plus 1/8 cup for cebollitas
1 bunch of cebollitas (in English they're called spring onions; they look like scallions but with a bulbous end instead of straight and skinny)
Directions:
FOR THE MEAT
Marinade the meat with 1/2 cup ponzu sauce for 30 minutes in a zippered plastic bag. Discard the liquid and bag, and grill meat over medium-high heat just long enough for each side to get grill marks and cook through.
FOR THE CEBOLLITAS
Use as much or as little ponzu as you'd like. You can choose whether to use the ponzu to soak the onions in advance, or pour over them or use as a dipping sauce after grilling. If you choose to soak them, you can put them in a shallow bowl and use about 1/8 cup-1/4 cup of ponzu sauce. Reserve the sauce if you'd like to use it again as a garnish or dip after grilling.
Serve meat with cebollitas and corn tortillas. These tacos also go great with guacamole or a fresh green salsa.
Yields 2 servings or about 6-8 tacos.
How do you dress up your basic rib eye tacos?
Disclosure: This post is part of a sponsored series to promote Mizkan cooking wines, vinegars, sauces and marinades. We also received product samples and promotional material from Mizkan to assist in preparing this post. All opinions and recipes in this series are our own.