Frijoles de la olla are a staple in Central Mexican cuisine. Traditionally, they're cooked in a clay pot, but this version is adapted for cooking in a slow-cooker or Crock-Pot.
There are three types of beans you typically see in frijoles de la olla recipes: frijoles bayos, flor de mayo or pinto beans. Frijoles de la olla made with those type of beans are most common in Central Mexico. All three varieties have a pinkish hue, with pinto beans being the lightest in color among them. These are also the same kind of beans I use for making frijoles charros.
While individual recipes for frijoles de la olla may vary, they will also often include common ingredients such as onion, garlic, manteca de cerdo (pork lard), salt and hierbas de olor (herbs such as epazote or cilantro that are cooked in with the beans for flavor). Other variations may include different spices such as cumin or bay leaves.
In Eastern Mexican states such as Veracruz and others bordering the Gulf of Mexico, as well as the South and Southeast states of the country such as Oaxaca, black beans are preferred over bayo, flor de mayo or pinto varieties. Accompaniments may also vary by region to include a fresh squeeze of lime juice, diced onion, chile serrano, chopped cilantro or crumbled fresh cheese.
Cooking tips for frijoles de la olla
To prep this dish the night before, add everything to the crock-pot except the liquids, pork neck bones and salt. The next day, add the liquid and pork neck bones and turn on high.
If you're planning to let this cook all day while you're not home, use a slow-cooker that has a timer that will turn the heat off or to a very low "keep warm" setting after the cooking time. You can then add the salt, reheat them for 30-60 minutes in the slow-cooker and enjoy!
If you don't have a guajillo chile at home but you have other dried chiles, any other dried red chile you like and have on hand is an acceptable substitute. Just be sure to portion based on the heat factor! Or you can leave the chile out altogether if you prefer.
For those who like their beans with a thicker stew-like consistency instead of broth, some cooks mash or blend a portion of the beans and then re-add to the pot as the broth cooks down.
To make this dish vegetarian-friendly, leave out the pork neck bones and use vegetable broth instead of chicken broth.
This recipe will give you plenty of leftovers, and it's great as a snack, a side dish, or even a main dish with some garnishes and mix-ins.
Print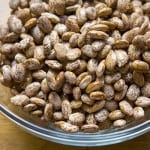 Crock-Pot frijoles de la olla
Author:

Prep Time:

15 minutes

Cook Time:

6 hours

Total Time:

6 hours, 15 minutes

Yield:

10

servings

1

x

Method:

Slow-cooker

Cuisine:

Mexican
---
Description
Frijoles de la olla are a staple in Mexican cuisine. Traditionally, they're cooked in a clay pot over a fire or on the stove, but this version is adapted for cooking in a slow-cooker or Crock-Pot.
---
2 cups

frijoles pintos (pinto beans)

2 cups

chicken broth (substitute with vegetable broth for a vegetarian version)

4 cups

boiling water

1/2

of a white onion, sliced 1/4 inch-thick

1

chile guajillo

1/2

of a small head of garlic (about

4

–

6

cloves)

1/2 teaspoon

of ground cumin
a few pork neck bones (leave these out for a vegetarian version)

2 1/2 teaspoons

kosher salt (to be added in last

45

minutes of cooking)
---
Instructions
First, rinse your beans under cool water to remove any dirt or debris and get rid of any broken beans. There's no need to soak the beans overnight!
Layer the onion slices along the bottom of the crock-pot. Place the beans directly over the top of the onions. Tear off the stem of the chile and tuck it into the beans and nestle the pork neck bones in the beans, too. Add the chicken broth. Remove the papery skin from the garlic cloves and place in the crock-pot whole. Add the ground cumin.
You'll notice the chicken broth isn't enough to cover the beans and keep all the ingredients moist while cooking. Add 4 cups of boiling water over the top, making sure all the ingredients are under the broth and water and then put the cover on the slow-cooker.
Turn the heat on to high for 5-6 hours (individual slow-cookers can vary slightly in temperature). If the beans start to get dry during cooking, add 1-2 extra cups of boiling water. I only had to add about one cup in the last hour. You can substitute boiling chicken broth in place of the extra boiling water if you like. Add the salt in the last 45 minutes of cooking and stir it in gently to incorporate.
Serve warm.
---
Notes
The beans should be soft to bite and have a nice broth when they're finished, but shouldn't be watery.
Store leftovers in an airtight container in the refrigerator for up to a week.