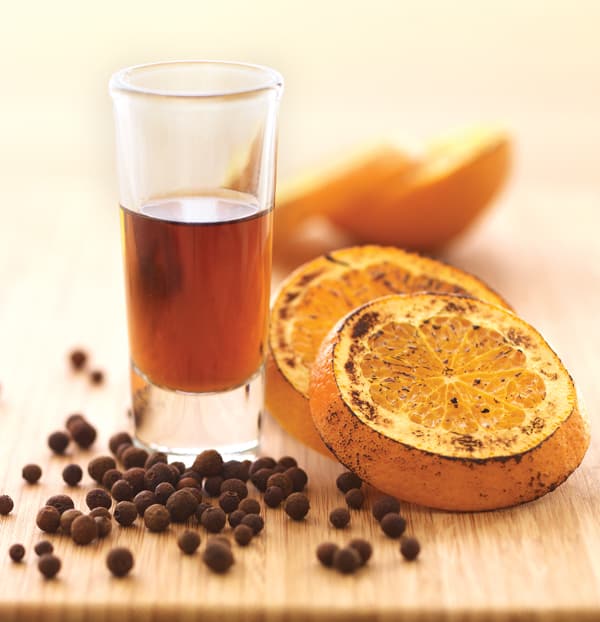 If there's one drink I'm guaranteed to order by the pool when I'm on vacation, it's a classic piña colada. When I talked about this charred orange colada recipe with McCormick Spices Chef Kevan Vetter, it had me salivating for vacation and this interesting twist on the classic frozen cocktail.
It's a simple recipe to follow, and the charred orange and black rum give this colada a decadent depth that makes it a sophisticated version of the classic.
You can also substitute 2-3 ounces of piloncillo for the brown sugar if you want to give it even more of a Mexican flavor.
In Spanish, allspice is called pimienta dulce, and you should be able to find it in both mainstream and Latino markets.
Charred Orange Colada (Recipe from McCormick Spices)
This interesting twist on the classic piña colada cocktail has smoky charred oranges, rich black rum and warm allspice in every sip.
Ingredients
4 oranges
1/2 cup firmly packed brown sugar, divided
1 cup orange juice
1 teaspoon McCormick Whole Allspice
1 can (13.66 oz) Thai Kitchen Coconut Milk
12 cup black rum
1 teaspoon McCormick Pure Vanilla Extract
1-2 cups crushed ice
4 maraschino cherries (optional for garnish)
Instructions
Cut three of the oranges in half, crosswise. Cut ends off the remaining orange and then cut into 4 crosswise slices. Dip the cut sides of the orange halves in the brown sugar. Reserve the remaining brown sugar.
Grill oranges over medium heat for about 12 minutes or until charred. Turn slices occasionally. Reserve the slices for garnish.
Place orange halves, orange juice, allspice and reserved brown sugar in a saucepan and bring to a boil. Reduce heat to low and simmer for 10 minutes.
Remove from heat and cool completely. Remove orange halves from the pan and squeeze the juice from them back into the saucepan. Mix well and strain juice. Refrigerate until chilled.
Place juice mixture, coconut milk, rum, vanilla and 1 cup of ice in the blender and blend on high until smooth. Add more ice if desired.
Serve garnished with charred orange slices and maraschino cherries.
https://theothersideofthetortilla.com/2012/12/charred-orange-colada/
©2009-2015 theothersideofthetortilla.com
Want to know more? You can read the full 2013 McCormick Flavor Forecast report on the future of global flavor trends and how they develop the forecast at flavorforecast.com.
Disclosure: This post is part of a sponsored series to promote McCormick Spices 2013 Flavor Forecast global flavor trend report. We received promotional materials and an exclusive interview with McCormick's executive chef to assist in writing this post, but all opinions in this series are our own.