Día de los Muertos was this past week and as a special treat, I've asked some of my friends to send me photos and descriptions of their altars to share here on The Other Side of The Tortilla to show the variety of ways that people celebrate this holiday.
Today, I'm sharing the altar of my friend Danielly Lara from Un Dulce Hogar.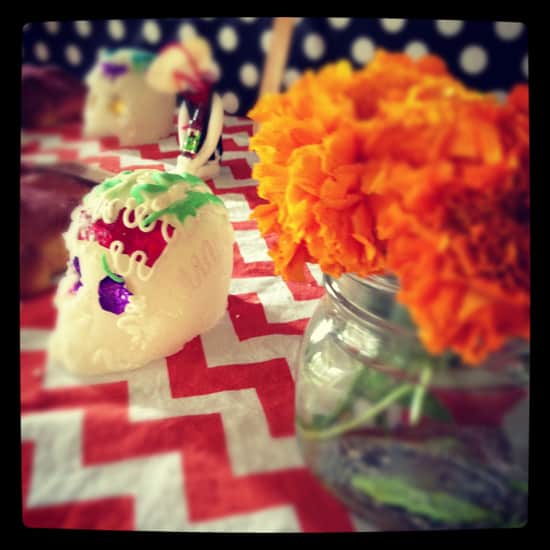 Where in Mexico are your family's roots?
I am a first generation immigrant from the city of Cuernavaca in the beautiful state of Morelos, known for its spring weather all year long. All my family lives in Mexico, and they have been denied visas to come visit the U.S. so I literally live between two worlds. My dad lives in California, but he left me and my family when I was 8 years old. Although I'm glad he's here, I haven't lived with him in California.
Who does your altar honor?
My altar mainly honors my culture and my roots. I put together my altar at the last minute. I called my dad and asked him to expedite me a box full of sugar skulls (some of them arrived broken), marigolds, bread and papel picado. Then I went through my files and found pictures from two of my great grandmas and one of my tía abuela.
Why do you make an altar for Día de los Muertos?
I made the altar because I wanted my kids to learn about my traditions. This is my first attempt to recreate a Mexican tradition with them and it was a success!
How does it keep you connected to Mexican culture?
Last summer I had the chance to take my kids to Mexico to meet my family. They connected with my family in a very deep way, the Latin way. Saying goodbye to come back to the U.S. was heartbreaking, not only to me, but to them as well. They not only learned Spanish, but they also learned that there is an entire family that loves them in a different part of the world. They had never had many adults around in their lives who paid individual attention to them. Ever since we got back to Utah, they think that every airplane that goes by our house is either going to Mexico or coming back from Mexico. I know that they will forget those relationships they formed if I don't maintain their connected to Mexico. I don't know if they will continue these traditions, but I know that at least they will be exposed to them. They will have to decide for themselves if they want to pass them on or not, but I surely hope they do.
For more photos and a story about Danielly's altar for Día de los Muertos, click here to visit Un Dulce Hogar.