This Wednesday, March 7, we'll be participating in a Twitter party with all of the Maseca Amigas Blogueras to talk about healthy cooking, nutrition and more. I hope you'll joint us! Like any good party there will be some special prizes you'll have a chance to win.
Here's all the info you need to know to participate: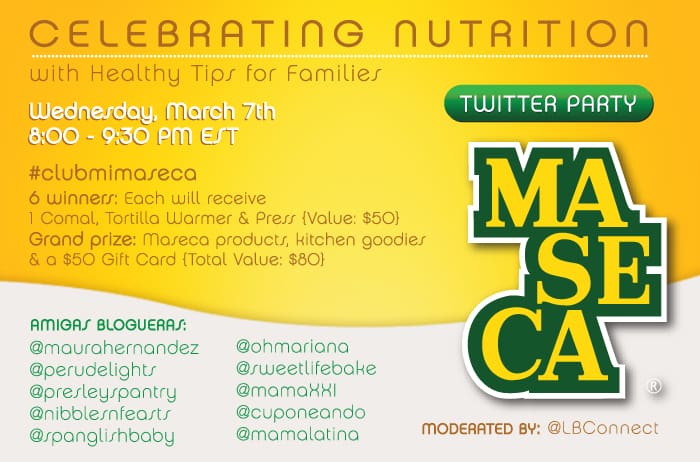 Participate and follow along with the #clubmimaseca hashtag using TweetGrid, TweetChat, Twitterfall or your favorite Twitter tool, such as Tweetdeck to keep track of the conversation easily.
RSVP online via Facebook or Twitter and read the official rules in order to be eligible to win prizes.
Make sure you follow the Amigas Blogueras and the moderator, @LBConnect, to help you keep track of the conversation in addition to the hashtag.
And if you're not familiar with all the Amigas Blogueras listed above, you can check them out on the Maseca website! Meet the Amigas Blogueras in Spanish or in English to get to know them a little before the fiesta and read some of their stories!
¡Nos vemos en Twitterlandia!