I was doing my weekly shopping trip when I spotted a sign for mamey from the next aisle over. I practically ran to grab one since they're one of my all-time favorite fruits. But when I arrived, I realized… these mamey were gargantuan. They were the biggest ones I've ever seen… and I've seen a lot of mamey! Is it me, or are these freakishly large? The kiwi practically look like chiclets next to them.
If you're not familiar with mamey, they're a lot like a sweet avocado–a bit thicker, rougher skin, but a similar consistency on the inside. The sweet flesh is pink instead of green. Such a treat. Next time, I'll be sure to take a photo of the inside to show you. I'm not sure how it's possible that I haven't written about mamey here before, but I can't wait to go buy some more to make batidos de mamey.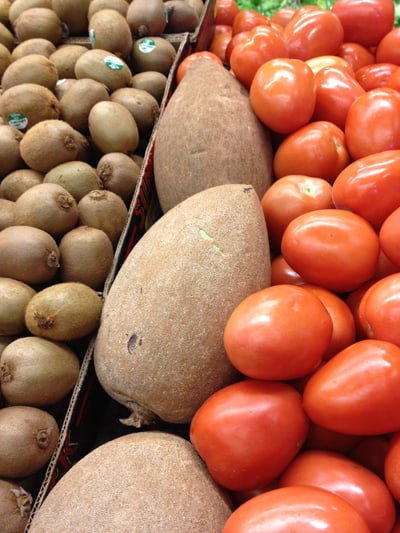 What do you think? Are these mamey the biggest ones you've ever seen?