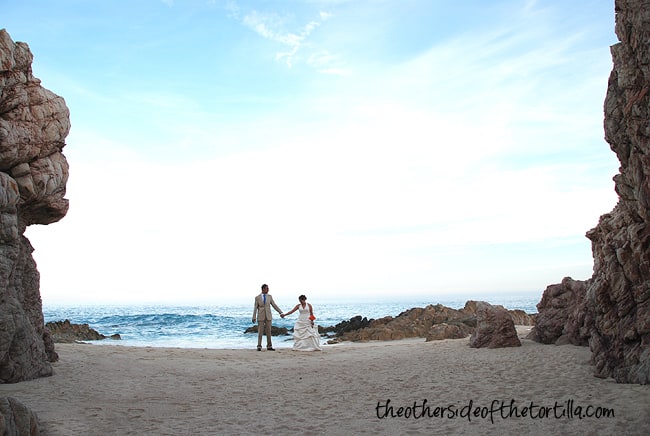 On this day three years ago, we took our wedding vows in front of family and friends. First, in a small Catholic church ceremony with our parents and witnesses at the historic Misión de San José del Cabo, and then a beach Mass* with all our family and friends. This is one of my favorite photos from our wedding day, sharing a private moment steps from the deep blue rolling waves in a small cove between two rock crops.
You can read more about our wedding, including details on the church, more photos, the reception… and of course, the menu, in last year's anniversary post. Lately I've been thinking about recreating recipes from our wedding menu, so hopefully I can get in the test kitchen soon.
If I got the chance to do it all over again, I'd do just about everything the same, but in slow motion so it wouldn't go by as fast! Lucky for me, I have a wedding video to remember every moment by. We'll be watching it and toasting with champagne over the weekend.
I'll have to dig out some more photos to share here soon. Many friends reminded us today of their memories from our wedding extravaganza week and it made me want to go searching for photos from different parts of the day and the reception to take it all in and have each and every moment rush back into my memory.
Thanks for reading The Other Side of The Tortilla and following along on our journey. Please join us in toasting to many more years of wedded bliss!
José: te quiero con todo mi corazón. Siempre. —Maura
*Catholic Mass is not typically celebrated outside of the church; we brought our own family priest who agreed to perform a second ceremony on the beach after we had a ceremony in the church. Most beach weddings in Mexico are symbolic or civil ceremonies.