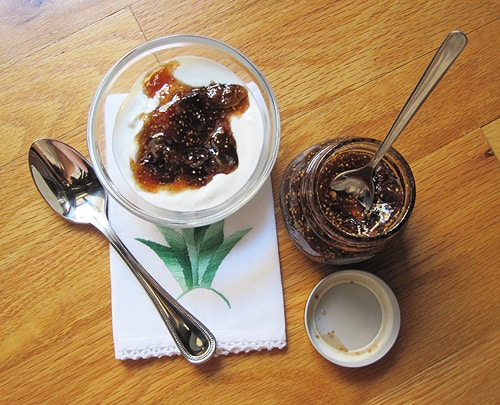 I have a love affair with figs and fig jam. A few summers ago when I was visiting Mexico City, my suegra and I went to the Mercado Coyoacán to pick up some handmade tortillas and oranges for making fresh-squeezed juice. As always, we strolled through the market at a leisurely pace, taking in all the sights and smells of all of our favorite stalls.
One of her favorite stalls, run by a wrinkled old lady, had an abundance of just-picked figs. The viejita stood in the middle of the aisle with her hands cupped, filled with figs as she cried, "Higos! Higos!"
We stopped to say hello to the woman and she cut open a fig to show me the inside. It was perfectly pink. She must've seen the look of excitement on my face because she stuffed two figs in my hand and said they were a gift to enjoy. She gave my suegra a few as well and after thanking her profusely and buying a few oranges, we were on our way.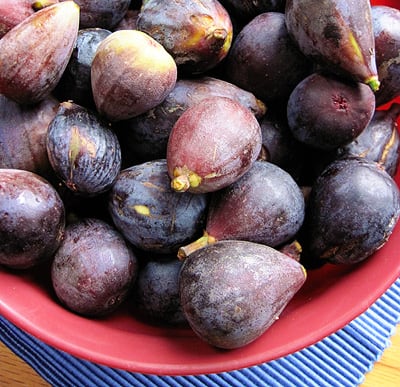 I don't recall seeing fresh figs often in the grocery store while I was growing up  in the Midwest– and I'm not sure if that's the reason why they fascinate me so much now, as if I have a lot of catching up to do or if, like many things, I've just gained a new appreciation for them while in Mexico. Figs have been growing in Mexico for centuries; the Spaniards are credited for bringing them to the New World in the 1500s.
If you pay attention to the produce in the grocery store or at your local farmer's market, you may have noticed figs are in season right at this time of year. Recently, a friend who lives in Los Angeles mentioned that she had an over-producing fig tree. Jokingly, I told her if she wanted to get rid of some of her extra figs, she could send them to me and I'd put them to good use. After a few emails, the figs were on their way to me in the mail. They arrived perfectly bubble wrapped in a box and as she had picked the figs before they were ripe so they'd survive being shipped cross-country, they were just starting to ripen. …