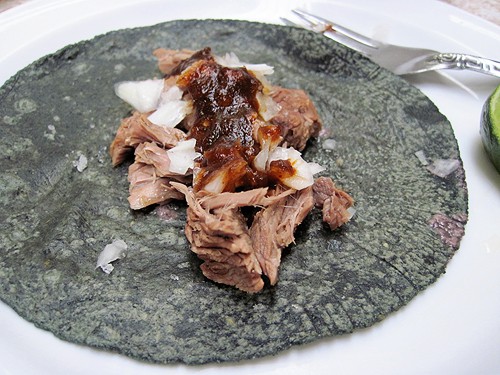 This past summer I took a road trip from Mexico City to Aguascalientes with my suegros to celebrate José's Abuelita Ana's 90th birthday.
The day before we left Mexico City, my suegros were going on and on about this place we were going to stop for barbacoa for breakfast. I didn't need to hear anything more; I was sold. Mostly because any time they mention food that's along the highway, I know it's going to be good. I can't quite explain why, but every restaurant I've ever been to along the highway in Mexico with them has been practically legendary.  It's fodder for conversation for months – sometimes even years – at the dinner table, family gatherings, via email or phone. Highway food is never forgotten in our family. Many conversations begin with, "remember that time we ate at that little place off the highway?"

Perhaps I never understood what "something to call home about" meant until I ate the world-famous cecina at Cuatro Vientos on the highway to Acapulco just outside of Cuernavaca a few years back. (OK, perhaps it's not world-famous, but it's certainly famous within Mexico. It should be world-famous, it is that good.) I've explicitly trusted my suegros with steering me toward the best highway road trip food ever since and they haven't disappointed me yet. So when they told me we were going to have barbacoa de la carretera, my salivary glands were already in overdrive.
We left Mexico City around 6 a.m., and as we got stuck in traffic on the way out of the city I began to drift off in the back seat. When I awoke, we were pulling off the highway and onto a gravel driveway that was packed with cars and people who all had the same motivation as ours: barbacoa for breakfast at Barbacoa Santiago….