I vividly remember the first time I really tasted café de olla. It was a sunny summer morning in Mexico City's upscale Polanco district and I was eating brunch with my then-boyfriend and his parents at a well-known restaurant (side note: I would later marry him). I say "really tasted" because I know that a few times earlier in my life I'd had some bastardized versions—God-knows-where in the Midwest—that just had cinnamon in it and were called "Mexican coffee," or worse, actually passed off as café de olla by name on the menu.
In terms of food and beverage experiences, this first taste of real café de olla was a pivotal moment in the way that I viewed coffee. It suddenly became more than a morning caffeine fix, laced with milk and sugar. The restaurant, El Bajío, has become one of my all-time-favorite places and is known for its truly traditional Mexican fare. They serve their café de olla in a beautiful tiny earthenware mug that resembles a larger olla. If you've never seen one, an olla is a big lead-free clay pot that is glazed on the inside for cooking and typically painted with a folk art design on the outside.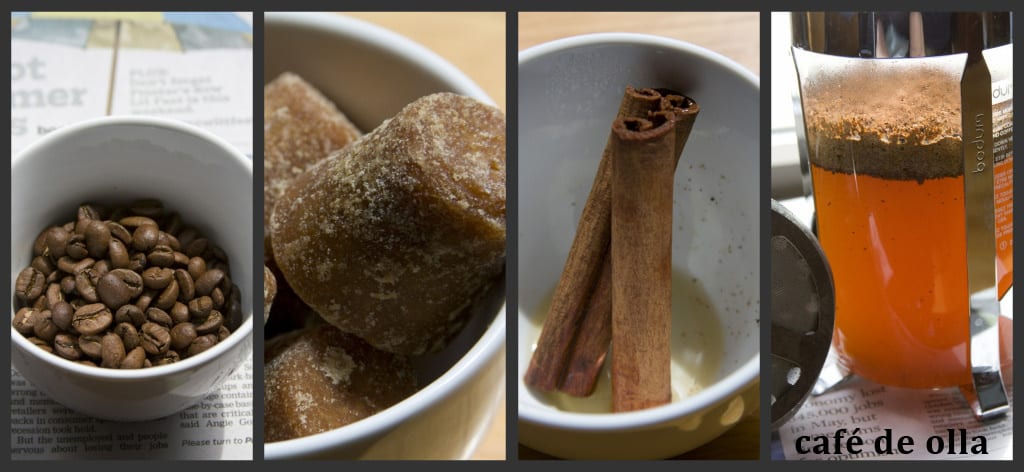 El Bajío also introduced me to many traditional foods that I'd never eaten before and changed the way I felt about Mexican cooking. So, I suppose to say it changed my view of coffee is certainly an understatement. It introduced me to a host of new flavors and ideas; it made me want to learn to cook traditional Mexican food and toss out any Americanized recipe I'd ever made. It is for the above reasons that I chose café de olla as the first recipe to share here.
If you've not been to Mexico City, you likely haven't heard of El Bajío. Founded in 1972 by Raúl Ramírez Degollado and Alfonso Hurtado Morellón, the restaurant is now run by Carmen "Titita" Ramírez Degollado, who took over when her husband passed away in the late 1970s.  El Bajío has six locations: the original, Cuitláhuac, and five others. Of the many times I've had the pleasure to eat there, I've only ever visited the Polanco location but my husband has been to both the Cuitláhuac and Polanco dining rooms. Usually when we go to El Bajío with family, it's to the one in Polanco.
To read more about the restaurant and to view their menu, you can visit El Bajío online.
When I returned to Chicago that summer, one of the first things I did was make the trip to a Mexican grocer in Pilsen to find piloncillo and start experimenting. Named for its cone shape, piloncillo is unrefined brown sugar, a result of the crystallization of two types of sugar cane. It's also known as panela or panocha, though I wouldn't walk into a store and ask for it using those names; you may get some strange looks due to the slang meanings.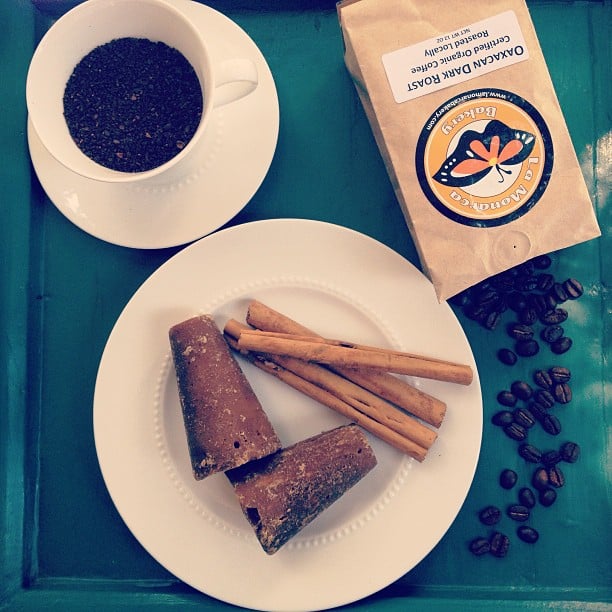 Some people like to flavor their café de olla with whole cloves, aniseed or allspice. I did a bit of research and there are even some weirdos who put semi-sweet chocolate in their café de olla—guacala. (A Spanish expression reserved for a supreme form of icky.) Not me; I like to keep it pretty simple.
Now, every time I drink café de olla, I close my eyes with the first sip and remember the start of my journey into traditional Mexican cooking. I hope you'll enjoy my recipe below, and please feel free to leave comments with your thoughts, fond memories of café de olla or what you do differently in your recipe.
TIP: If you don't have an olla (and most people don't have this traditional clay pot) you can steep the coffee directly in the saucepan and strain before serving. I often use a 32-ounce French press to avoid spilling while straining the loose coffee grounds and cinnamon sticks from an olla; the instructions below are for steeping with a French press. If you use a saucepan or an olla, it is best to use a fine mesh sieve over a serving carafe to filter out the coffee grounds and cinnamon sticks. If you don't have a fine mesh sieve, you can use a regular-sized sieve with some cheesecloth to catch the grounds.
How to make authentic Mexican café de olla with a French press.
Ingredients
3 ¼ cups water
½ cup whole coffee beans
2-3 sticks of Mexican cinnamon
3-4 small cones of piloncillo (about 1 ounce each)
1 teaspoon unsulphured molasses (optional, but adds a nice depth)
Instructions
Boil the water in a medium saucepan. When the water is at a rolling boil, add the cinnamon sticks and piloncillo. Allow it to boil for a few minutes and then reduce to medium heat, stirring until the piloncillo is completely dissolved and you can smell the cinnamon.
Remove from heat and let it sit to steep the cinnamon for 3-5 minutes.
Grind the coffee beans to a medium-coarseness (make sure not to grind too fine or you'll get sludge at the bottom of your cup). It's important that the coffee is as freshly-ground as possible.
Remove the cinnamon sticks and reserve.
Pour the liquid mixture into the French press carafe. Pour coffee grounds over the liquid and push the press down just enough to fully wet the grounds, then pull up so the grounds are released and begin to steep. Allow it to steep for about 5 minutes.
Pour into a small coffee cup. If you'd like, add a cinnamon stick to your cup for a little extra cinnamon flavor.
https://theothersideofthetortilla.com/2009/08/cafe-de-olla/
©2009-2015 theothersideofthetortilla.com