This post is part of a compensated campaign with Montejo. All opinions are my own.
I had never eaten dinner on the field of a Major League Baseball park, so when Montejo, a Mexican beer company I adore, invited me to have dinner on the field at Dodger Stadium — with a Mexican-inspired dinner cooked up by Chef Eduardo Ruiz of LA's Corazón y Miel — I knew it was a once-in-a-lifetime opportunity. We are big baseball lovers in our household, so I knew I would have a great time even though the Dodgers are not my home team.
Cerveza Montejo is a golden lager beer that has been brewed for more than 100 years in Mexico.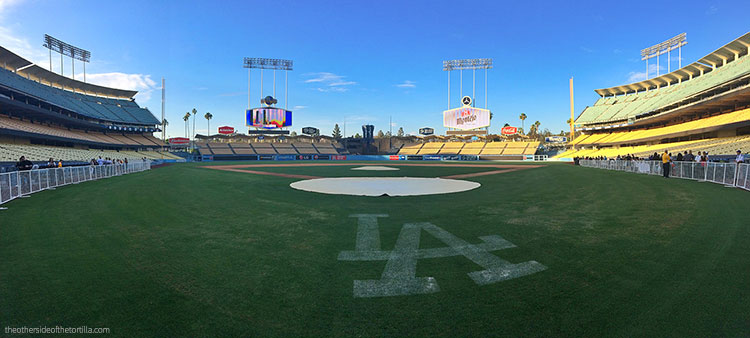 Named after Don Francisco de Montejo, the founder of the city of Mérida in the state of Yucatán, Cerveza Montejo was originally brewed at the Cervecería Yucateca beginning in 1900, and is now brewed in Tuxtepec, in the state of Oaxaca, by Cervecería Modelo. Although this tasty Mexican beer has been around for a long time in Mexico, it has only been available in select states in the U.S. since September 2014. As a newer beer to the American market, it was cool to learn that Montejo is an official beer sponsor for the L.A. Dodgers and the Texas Rangers. If you've been to other ballparks in California, Arizona or Texas, you've also probably seen Montejo sold at the concession stands. And at Dodger Stadium, they even have a Montejo bar behind the right field pavilion!
We've had Montejo plenty of times in Mexico, so I'm excited to have it available in the U.S. because not only is it good for drinking plain and making micheladas, it's also a great beer for cooking — especially when it comes to marinating and tenderizing meats for summer grilling!
RELATED RECIPE: Arrachera borracha…