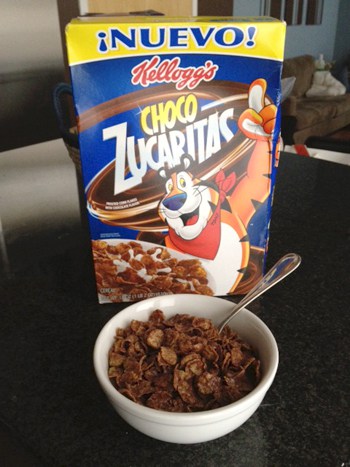 A few weeks ago, I visited Washington, D.C. for the 2011 Blogalicious conference, where I got to spend lots of time with my blog amigas from all over the country. My friend Tracy from Latinaish, who lives in the area and was also attending, found out before the conference that I was a huge fan of Kellogg's Choco Zucaritas (chocolate frosted flakes) and brought me a box as a gift! Now THAT is friendship. I took it all the way home to Chicago in my carry-on luggage so that the box wouldn't get squished in my checked baggage. I've been eating Choco Zucaritas in Mexico ever since I discovered them a few years ago and was always bummed out that I couldn't buy them in the U.S.—until now.
¡Gracias Tracy! I'm almost out, so I'm headed to the super this week to see if I can find a box here in Chicago.
What foods do you love to buy in Mexico that you can't find in the U.S.? Tell me in the comments below!