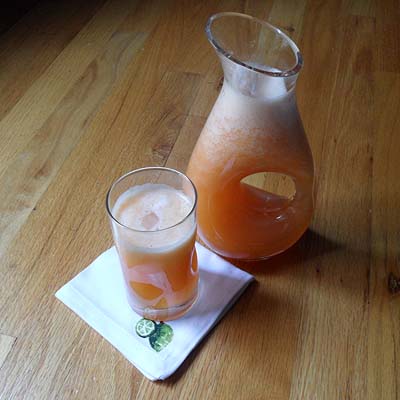 Today on the Kenmore Genius Blog, I'm sharing a quick and simple recipe to make agua de melón in your blender. I especially love to drink this with breakfast.
The basic ingredients: Cantaloupe, a little sugar, water and a squeeze of fresh lime juice. If your melon is super ripe, you can also reduce the sugar by half or leave it out completely for a healthier, no-sugar-added version—it's up to you. Hop on over to the Genius Blog for more on this recipe. This recipe calls for cantaloupe, but you can also use honeydew melon (melón verde).
Ingredients
1/2 of a ripe cantaloupe
1/4 cup of sugar dissolved in a half cup of warm water
1 cup of cold water
Optional: juice of half a lime
Instructions
Dissolve the sugar in a half cup of warm water to create a simple syrup. Set aside and allow to come to room temperature.
Cut the cantaloupe into cubes and put it into the blender with 1 cup of water until it's completely liquified and smooth.
Place a fine sieve over a pitcher and pour the contents of the blender through it to strain. Use a spoon to press any remaining juice through the sieve.
Add the simple syrup to the pitcher and stir well. If you opt to use the lime juice, add that after the simple syrup.
Serve chilled or over ice. Yields 3 to 3-1/2 cups of juice, depending on the ripeness of your cantaloupe. Refrigerate any juice you're not going to drink immediately and consume within two days.
https://theothersideofthetortilla.com/2011/09/agua-fresca-agua-de-melon/
©2009-2015 theothersideofthetortilla.com
If you want to read more about aguas frescas, check out some of my previous recipes here on The Other Side of The Tortilla:
Did you like this recipe? Please share it with your familia and amigos! ¡Gracias!