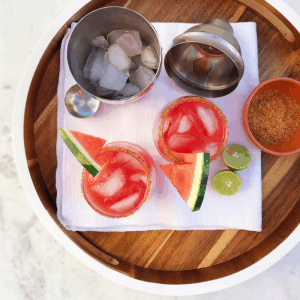 Watermelon Margarita
A simple recipe for watermelon margaritas that takes about 15 minutes to make from start to finish.
Ingredients
1 1/4 cup fresh watermelon juice, strained (1 pound of watermelon, juiced if making in a juicer)
2 1/4-inch thick slices of watermelon to garnish
2 ounces tequila blanco, or more to taste
juice of 2 Mexican limes
Tajín for rimming the glass
Ice cubes (see below)
Instructions
Mix 1 1/4 cup strained, fresh watermelon juice with 2 ounces of tequila and the juice of two Mexican limes.
Stir and refrigerate or put in the freezer to chill for about 10 minutes.
While the juice is cooling, use half of one of the juice limes to wet the rims of two glasses. 
In a shallow dish, pour about a tablespoon of Tajín and dip the rims gently to make the Tajín stick to the glasses.
Add about 4-5 ice cubes to each glass. 
Fill a cocktail shaker half-full with ice. Pour the chilled watermelon, lime and tequila mixture into the cocktail shaker. Gently swirl and shake for about a minute.
Strain margarita into glasses over ice and serve.
Notes
Yields 2 servings.
If making your own watermelon juice: Cube 1 pound of watermelon and put through your juicer. Pour through a fine mesh sieve to remove any pulp. Refrigerate for up to 12 hours before using. For optimal taste, fresh watermelon juice is best consumed the same day.
Recipe by The Other Side of the Tortilla at https://theothersideofthetortilla.com/2018/08/watermelon-margarita/