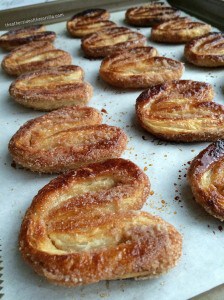 Orejas
Yield 15-16 cookies
One of Mexico's most popular kinds of pan dulce.
Ingredients
1 sheet Pepperidge Farm puff pastry, defrosted
½ cup Zulka morena granulated cane sugar
¾ teaspoon ground cinnamon
Instructions
Line a large cutting board with parchment paper and unfold the puff pastry sheet to defrost for about 45 minutes to an hour.
When pastry is defrosted, preheat the oven to 425 degrees F.
Line a baking sheet with parchment paper and spread about ¼ cup of the cinnamon sugar mixture on it, roughly in the shape of the puff pastry.
Transfer the defrosted puff pastry to the baking sheet on top of the cinnamon sugar and peel the parchment paper off the other side. Spread the remaining ¼ cup of cinnamon sugar liberally over the top of the puff pastry.
Use a rolling pin to gently roll out the puff pastry both horizontally and vertically, which will cement the sugar into the pastry.
Fold the puff pastry inward from the edges to meet in the middle. Then fold again, in half. With a sharp knife, cut half-inch slices and transfer to a parchment paper-lined baking sheet.
Bake at 425 degrees F for 5-7 minutes on one side, remove from oven and flip orejas with a spatula, and bake for another 3-4 minutes. Remove from oven and allow to cool on a cooling rack. Store leftovers in an airtight container for up to 5 days.
Notes
Recipe prep and cook time does NOT include 45-60 minutes of inactive prep to defrost frozen puff pastry sheets.
Courses Breakfast
Cuisine Mexican
Recipe by The Other Side of the Tortilla at https://theothersideofthetortilla.com/2014/11/how-to-make-orejas-recipe/