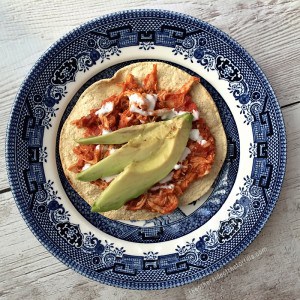 Chicken tinga
Yield 4-6 servings
Tinga de pollo is a Mexican dish from Puebla with a tomato base and shredded chicken, along with chorizo, tomatillos and spices. This dish is also commonly known as tinga poblana or chicken tinga.
Ingredients
4 cups shredded rotisserie chicken
½ cup cooked chorizo (about 6-7 ounces uncooked depending on the brand)
¾ cup white onion, diced (about half of a large onion)
2 garlic cloves, crushed
1 ¼ cups Hunt's tomato sauce
2 chipotle chiles in adobo sauce
6 tablespoons adobo sauce (from canned chipotles in adobo)
1 cup Hunt's petite diced tomatoes
3 ½ ounces fresh tomatillos (about 4 small-to-medium sized tomatillos)
¾ teaspoon dried Mexican oregano
½ teaspoon dried thyme
¼ teaspoon dried marjoram
¼ teaspoon freshly ground black pepper
2 bay leaves
Instructions
Cook 6-7 ounces of chorizo in a frying pan. Drain grease from cooked chorizo on
While the chorizo is cooking, hand-shred rotisserie chicken until you have four cups and set aside.
In a large skillet over medium heat, combine cooked chorizo, diced white onion and garlic. Sautee until the onion starts to turn transparent, about 5-7 minutes.
In a blender or a small food processor, add 1 ¼ cups Hunt's tomato sauce, 2 chipotle chiles and 6 tablespoons of adobo sauce from the canned chipotles in adobo. Puree until completely smooth.
Pour the tomato sauce mixture into the skillet and reduce the heat to low. Add 1 cup of Hunt's petite diced tomatoes, Mexican oregano, thyme, marjoram, freshly ground pepper and tuck two bay leaves into the skillet so they're submerged in the sauce. Stir to incorporate all ingredients.
Add shredded chicken and fresh tomatillo wedges and stir to coat. Reduce heat to simmer and cover. Cook for 15-20 minutes, until chicken is completely heated through and the sauce has reduced slightly.
Remove from heat and serve.
Notes
Serve on top of tostadas with crema mexicana and avocado (as pictured in this recipe); or with a side of rice, as tacos or inside of a quesadilla (known as tingadillas).
Courses Lunch/Dinner
Cuisine Mexican
Recipe by The Other Side of the Tortilla at https://theothersideofthetortilla.com/2014/10/tinga-de-pollo-recipe/